The Invoice payment method is offered in cooperation with our partner Santander Consumer Bank. Your customer is given the opportunity to transfer the invoice amount to Santander within 30 days, whereas you usually receive your money one to two working days after the goods have been shipped. Please note that in addition to a payever account (create for free) you also need a contract with Santander for this payment method. To complete this, please contact support@payever.de, where you can have a personalized offer put together.
Terms and conditions
The conditions for the invoice purchase may be set by Santander specifically for each retailer based on some key figures such as the average shopping cart, cancellation rate and sales. For more information, or to request an individual offer, please contact support@payever.de.
The invoice flow requires one score request based on the submitted invoice application, from which Santander may approve, reject or manually handle the application. Please note that it is Santander who handles both the pre-score and score logic for submitted invoices.
The purchase on account is offered by default for amounts between 199 NOK and 20.000 NOK (if necessary, you can agree to different rules with Santander). When using one of our plugins, these limits are usually set automatically, so that the payment method is not displayed if the amount is outside this range.
This invoicing option is only available to customers based in Norway .
Please note that the purchase on account can only be offered to private consumers (not suitable for corporate customers).
Please also note that for this payment method, the billing address must be the same as the delivery addresses (for fraud prevention) . When using one of our plugins, this is automatically set so that the payment method is not displayed if a different address has been entered.
Procedure
After the payment has been completed, the customer is forwarded to payever, where they only enter their date of birth and agree to a credit check. If the customer sends this form in full, a Santander scoring algorithm makes a decision within a few seconds. If this is negative, the customer is asked to choose a different payment method, if it is positive, the customer sees a corresponding success message.
When the goods are dispatched, the transaction is activated, i.e. your customer receives his Santander invoice by email and you receive the corresponding amount. You must therefore report the shipment to us or Santander. You can do this directly in your payever account (transaction details > "Goods shipped") or via the shop system (different depending on the shop system, in Shopware 5 for example, this is automatic when the status changes to "Completely delivered"). Please note that Santander may also requires proof of delivery in the form of a tracking number or similar (please contact Santander regard this for more information).
Settings in the payever account
To activate the invoice payment method in your payever account, please go Payment Methods > + Add in the Checkout app and select Santander Invoice Norway from the list. Enter the access data (Channel ID, Sender ID, login and password) that you received from your Santander consultant. After linking the payment method, you can make the following change:
Do redirect to the shop after success or failure. If activated, your customer will be forwarded to your order confirmation page after the payment has been completed.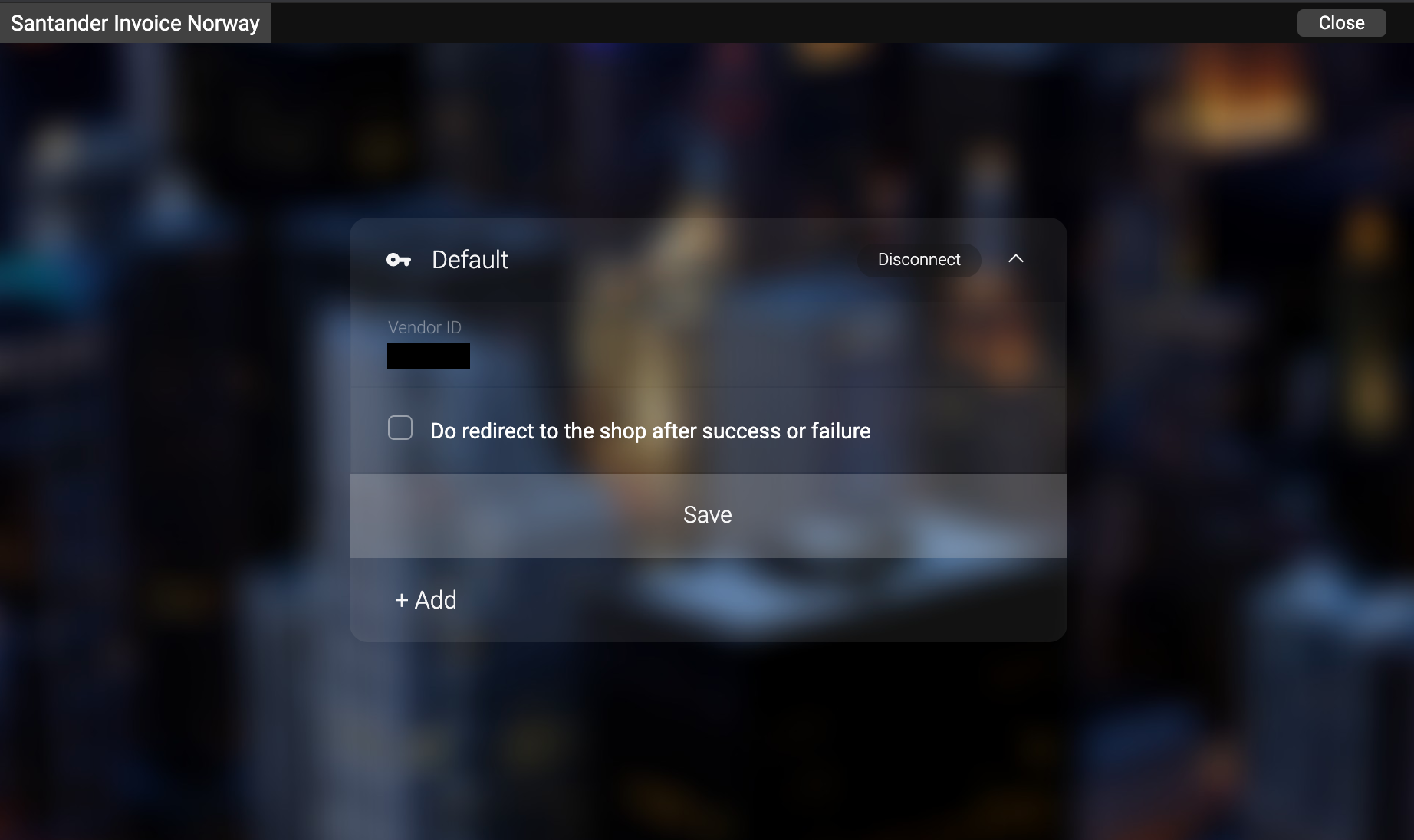 Quick Guide
1. Log in to your payever account
2. Open the Checkout app
3. Open the 'Payment options' tab
4. Click on Santander Invoice Norway
5. Click on Authentication
6. Enter the 'Vendor ID'
7. Make sure the switcher is green
8. That's it!