Step 1: Create an account
If you haven't already done so, please create your payever account at   https://commerceos.payever.org/entry/registration/business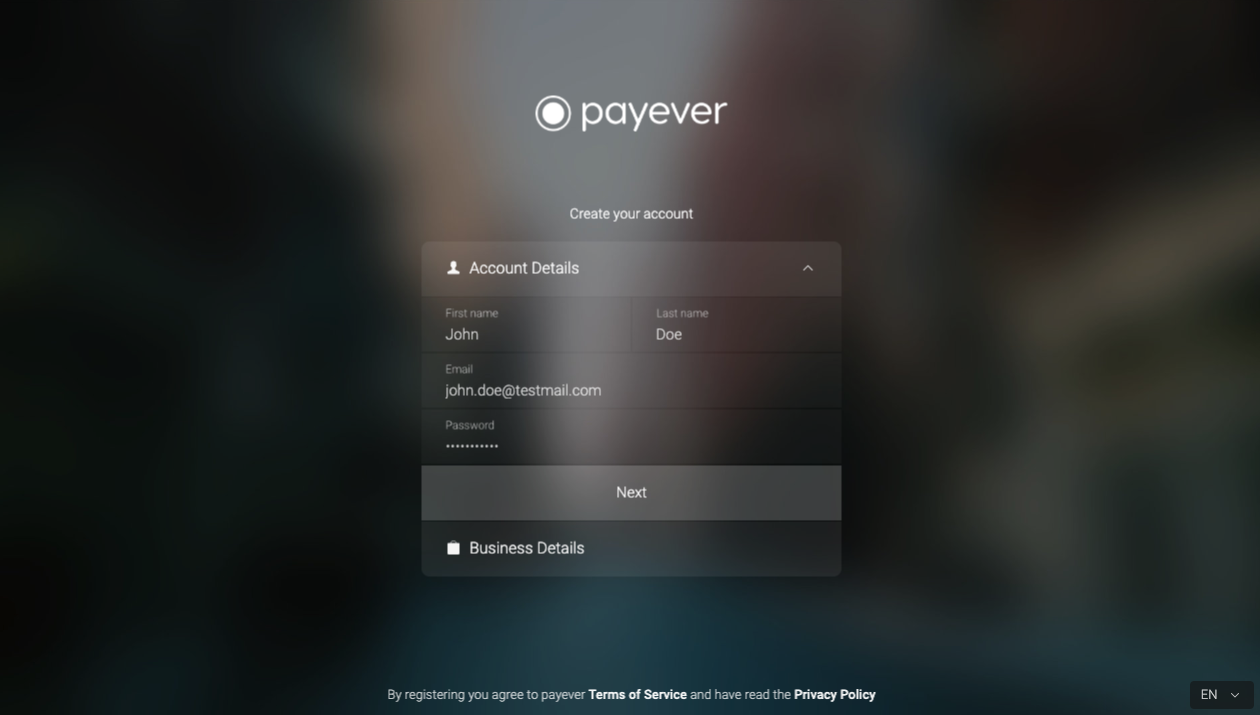 Step 2: Configure your payment options
To install payment options, please open the Checkout App. You can do so by either selecting Open in the Checkout Widget on the Dashboard, or by switching to Apps in the upper left corner and clicking on the checkout icon.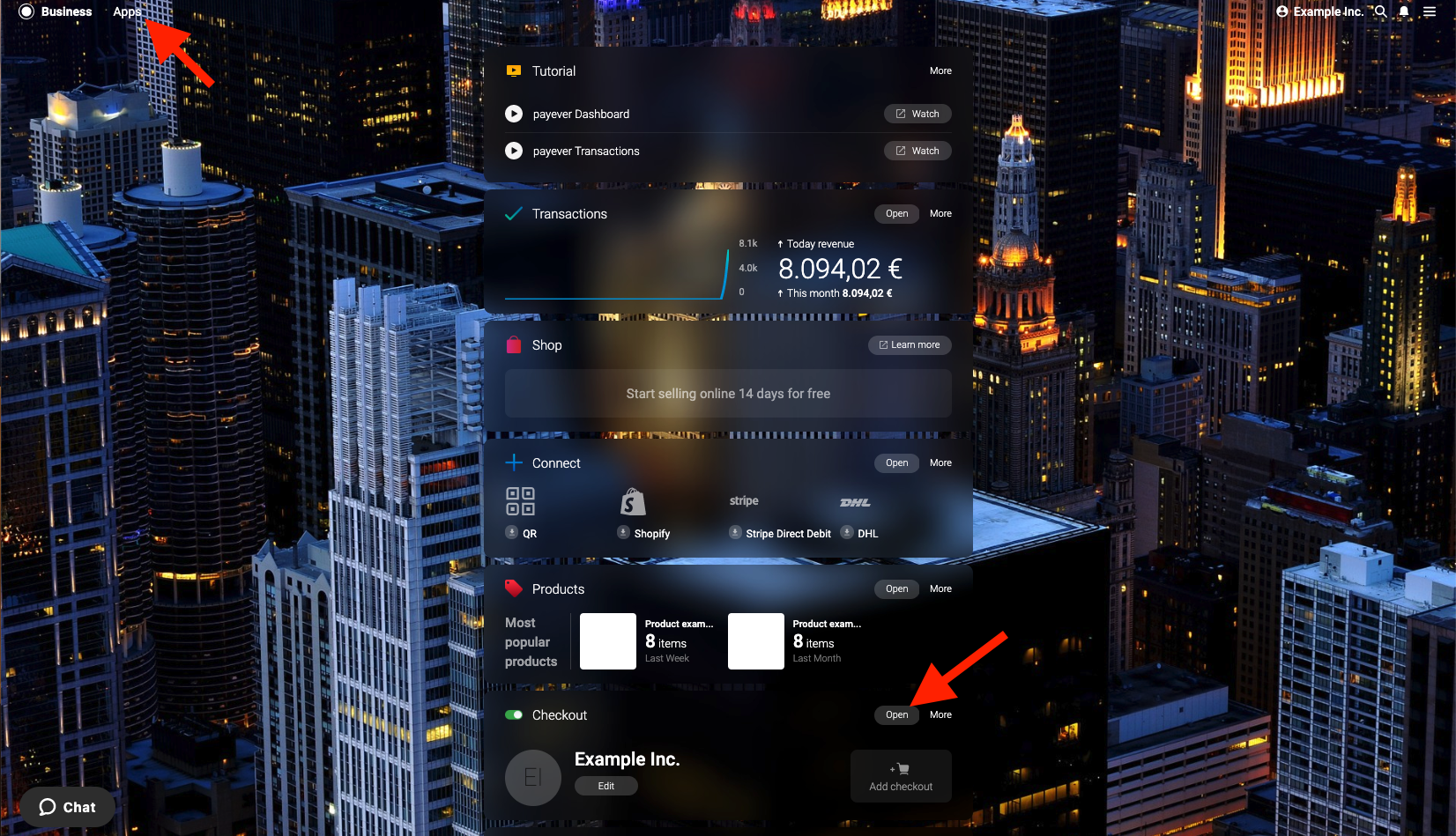 Chose payment options in the header bar and click on Add. You will now see a list of payment options - choose the one you would like to add and click on Install.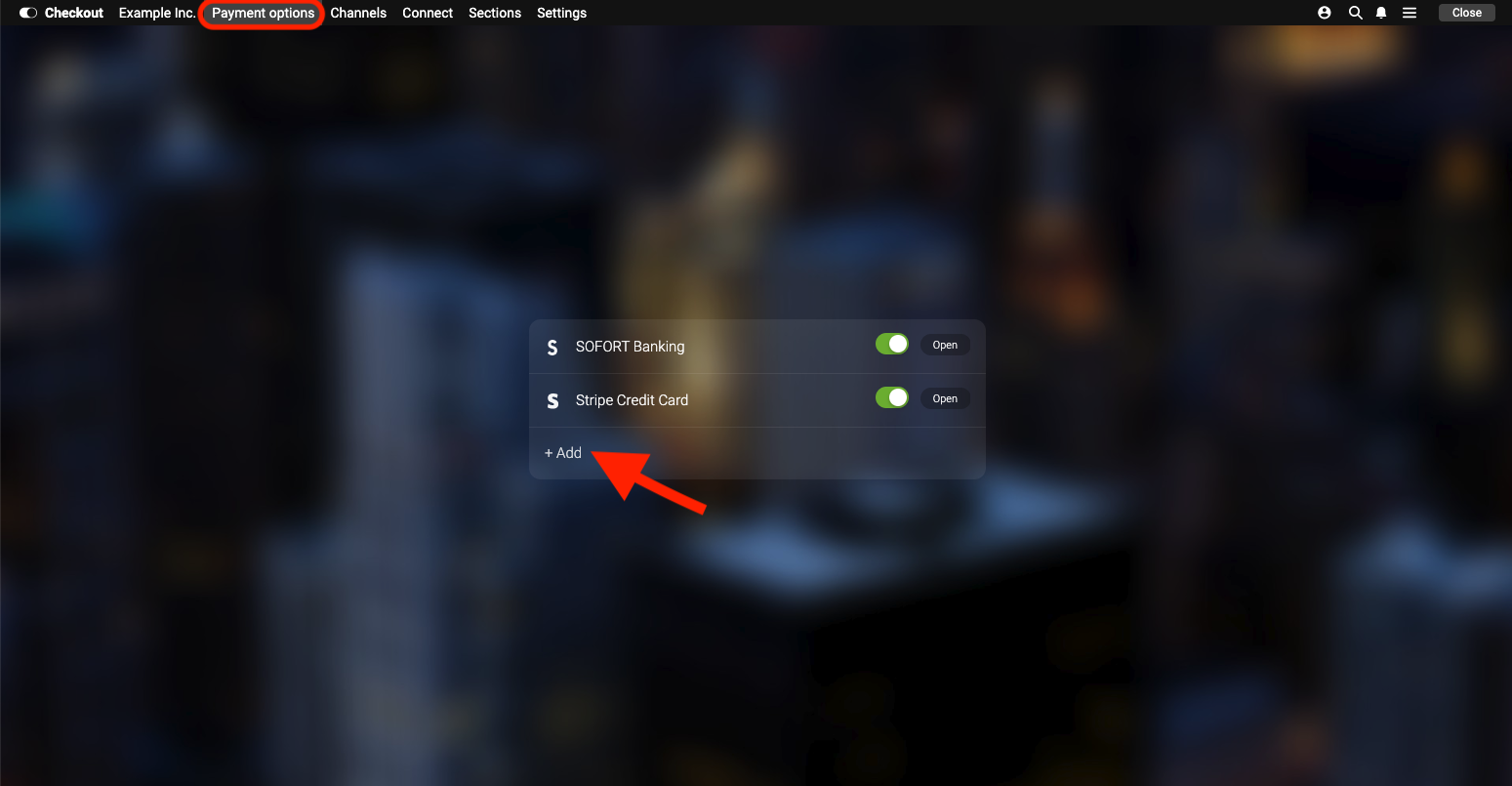 Upon clicking Install you will be directed to window which looks a little bit different for every payment option. For most payment options, you will be redirected to the respective payment provider when clicking the connect button, for some (for instance Santander payment options) you will need to enter some authentification credentials you have received from said payment provider.  (In case you would like to add a Santander payment option but have not been in contact with Santander yet, please contact support@payever.de.)
Step 3: Configure your channel
Select Channels in the header bar and click on +Add. If you are using one of our plugins, please select your shopsystem from the list and click on Install. If you are not using a plugin (API integration), please select API. Please make sure you choose the right option - if you for instance install WooCommerce but have a Magento shop, you will get an error message later on when you are trying to connect with your shop.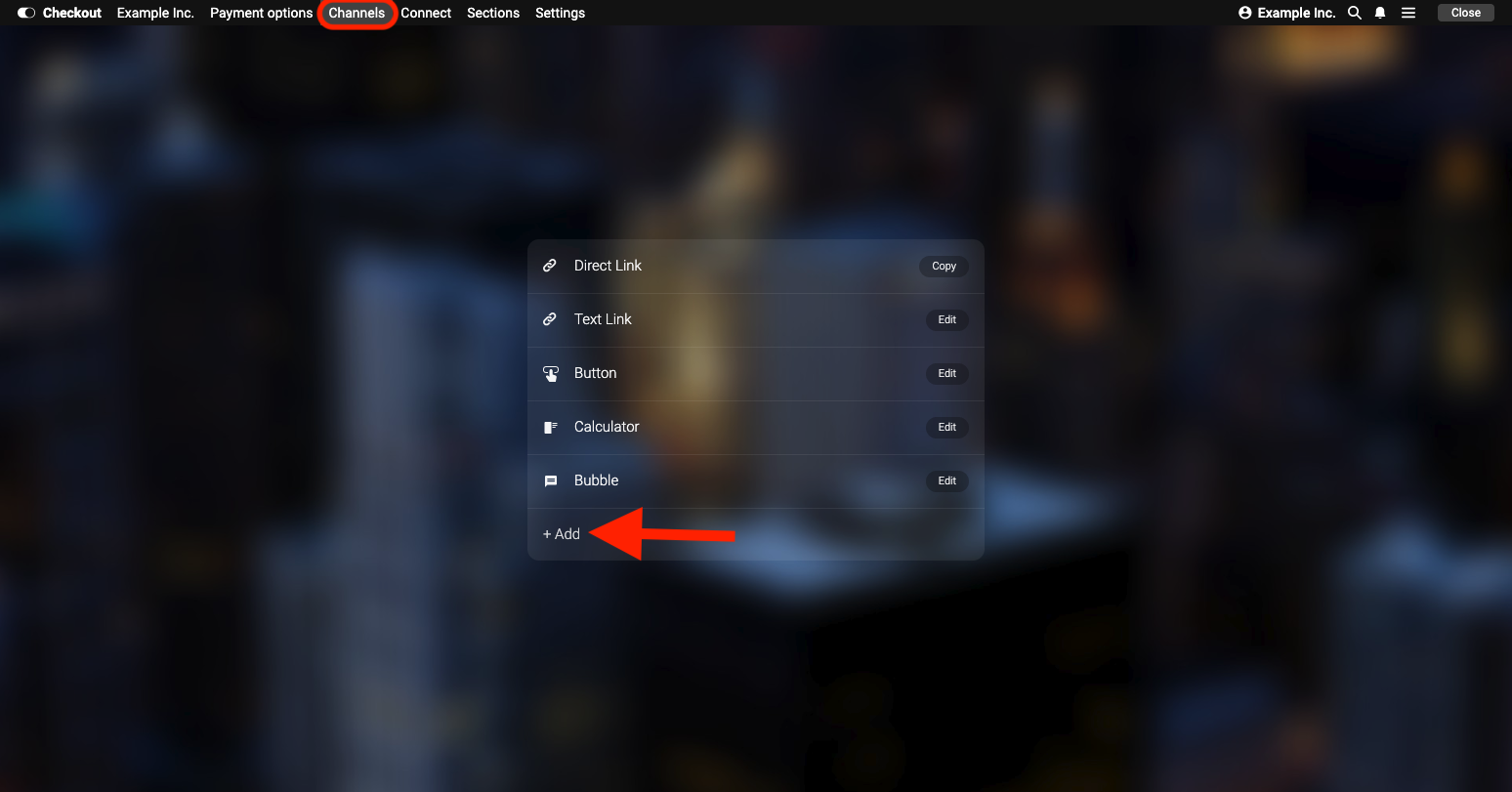 Upon clicking Install, a new window will open. Click on API keys and then on +Add. Assign a random name to the key and click on Create. Now, upon clicking the + Symbol next to your key name, your API keys will be displayed. Please copy those or note them down as you'll later need them to connect to your Shop. 

Step 4: Install the plugin
Log into your Shopware Account, click on Settings in the header bar and select the Plugin Manager.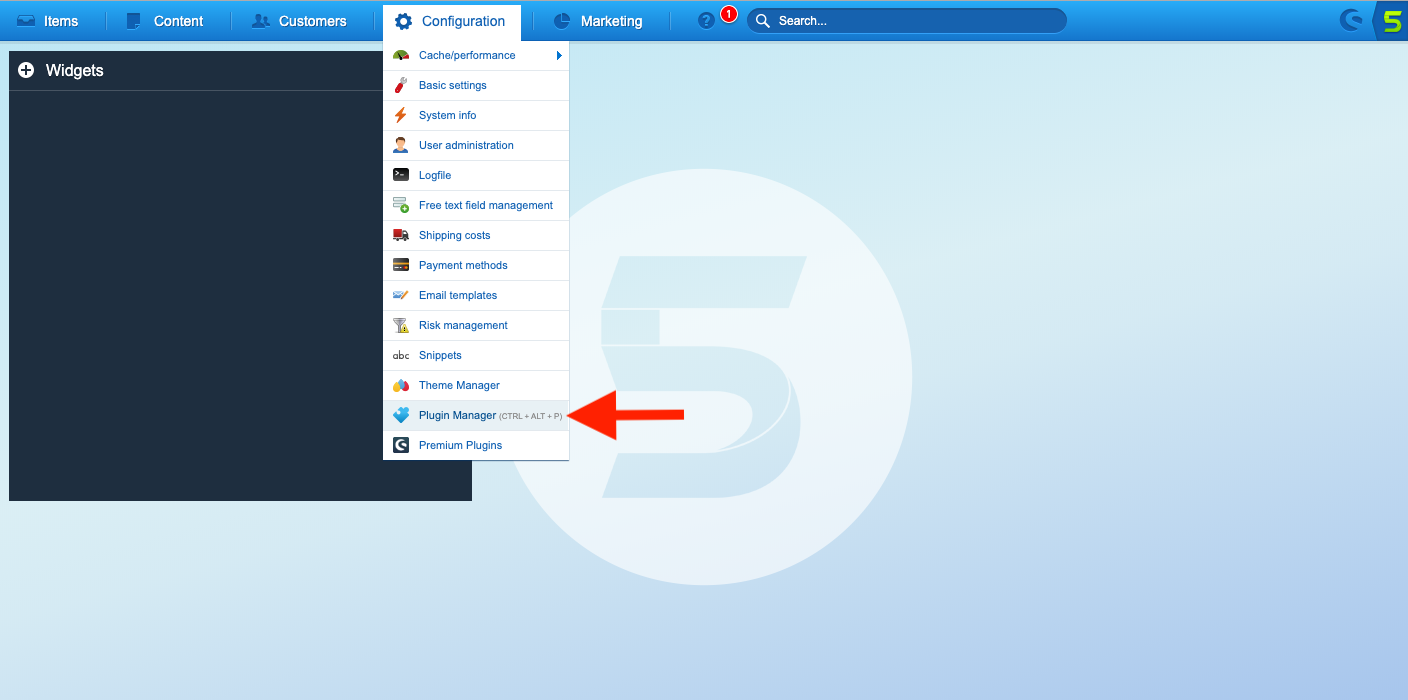 Once the Plugin Manager has opened, please type  "payever" into the search bar in the upper left corner and click on Install (please note that you need to be logged in for that).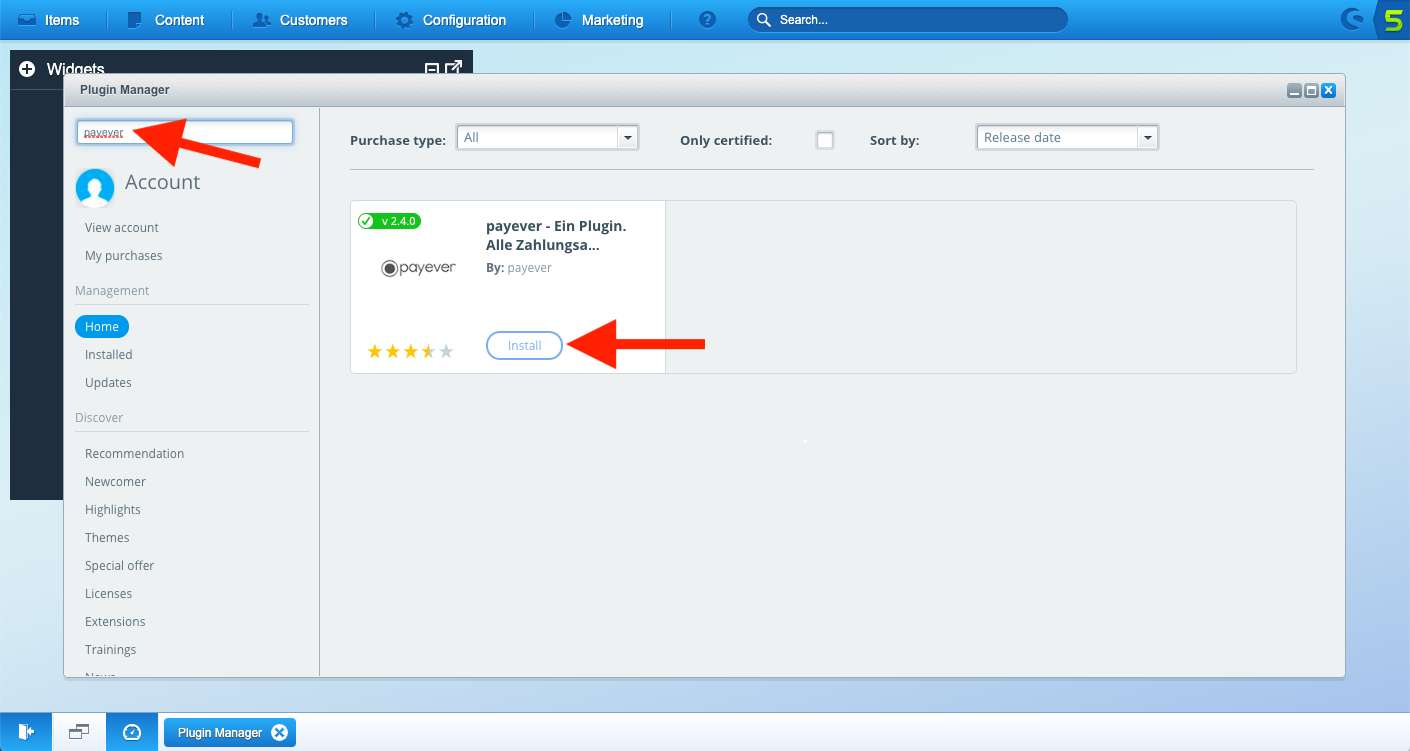 You will now be asked to confirm that the cache will be emptied. Please respond with Yes. In case you don't get this pop-up, please let your shop admin, as this is an indicator that there could be a bug in your shop. 
 Should you not get this pop-up for whatever reason, please empty the cache manually  nicht angezeigt bekommen, können Sie das Cache auch manuell leeren, unter > Configuration > Cache /Performance > Clear Shop Cache.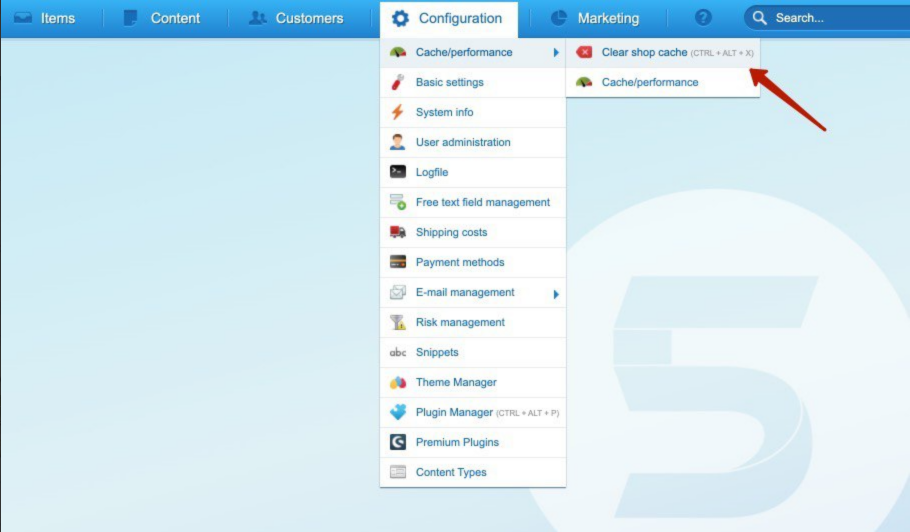 Step 5: Connect to payever
Next you need to activate the plugin by clicking on Activate (you may be asked once more to confirm that the cache will be cleared - please respond with yes again). 
Now you need to configure some settings: 
Sandbox: Please select No (unless you want to do test transactions - if this is the case, select Yes. You can find more information about the Sandbox/Testing mode towards the end of this article.) 
Iframe: We recommend choosing Yes. If you choose Yes, the payever Checkout will be loaded within an iFrame inside your website, the customer won't leave your shop for the checkout. If you select No, your customer will be redirected to a new page with a payever URL.  
Logging: We recommend selecting Critical Payment Data. You probably won't need the other two options, unless you run into problems later on - in that case our support may ask you to switch to Payment data with debug data as this helps us to better analyse your issues.
Client ID, Client Secret and Business UUID: Please enter the data you have generated in your payever account in Step 3 (unless you are in the Sandbox Mode, if that is the case please use our test credentials). 
Payment icon: Here you can decide whether you would like to have a logo/icon next to the payment option (different icons for each payment option, usually logo of payment provider).
Checkout language: We recommend to either choose the language of your shop, or (especially in case you sell in multiple countries) the option Default. Choosing Default means that payever will show the checkout in the user's browser language. 
Save rejected orders: Here you can decide whether you would like to create an order in Shopware when the customer has been rejected by the payment provider. We recommend you to choose No.
Last but not least, click Save and the Synchronize payment methods. (Please note the order - it won't work the other way around!)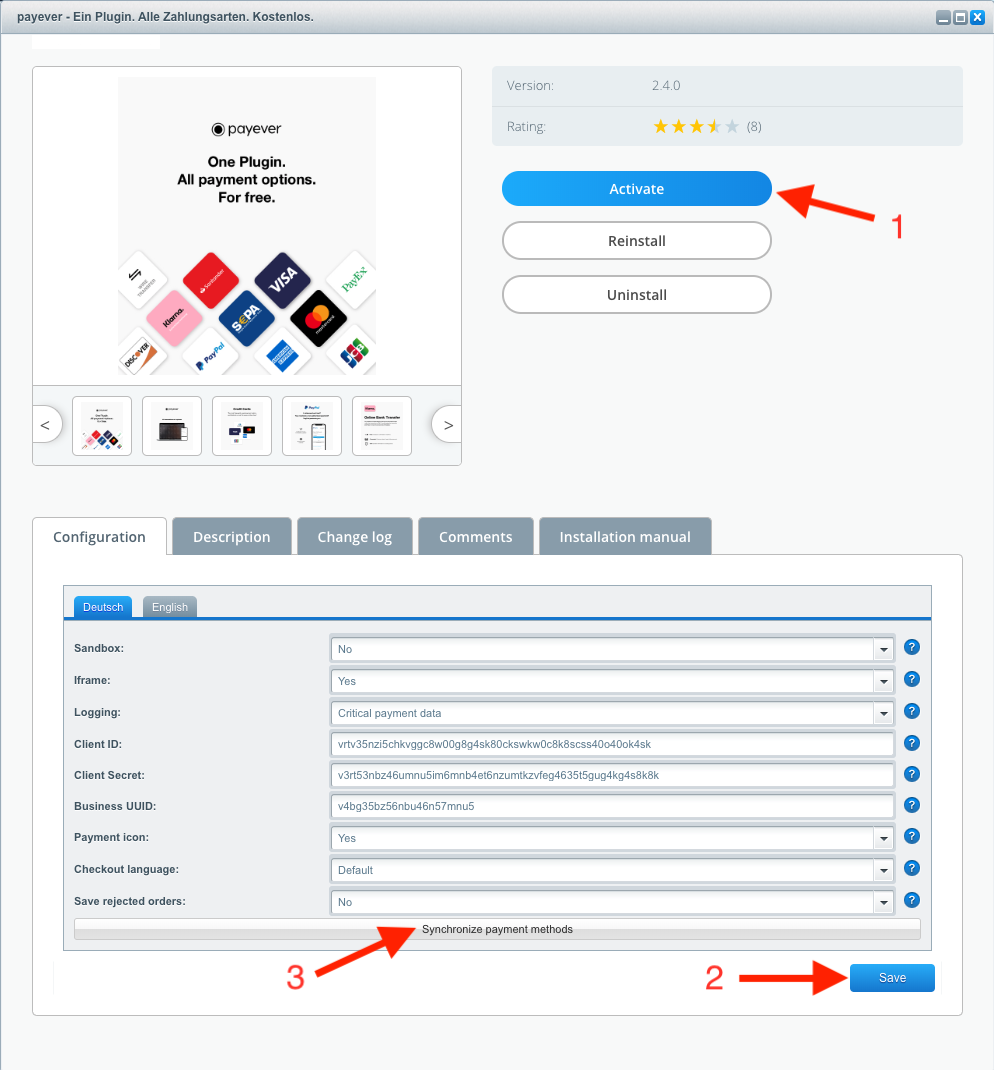 Step 6: Edit payment options
After synchronizing the payment options, you can edit them in your settings. To do so, please open Settings and choose Payment methods. 

Select the payment option you would like to edit. Here you can, amongst other things, type a name and description text for this payment option. Once you are done, don't forget to click Save.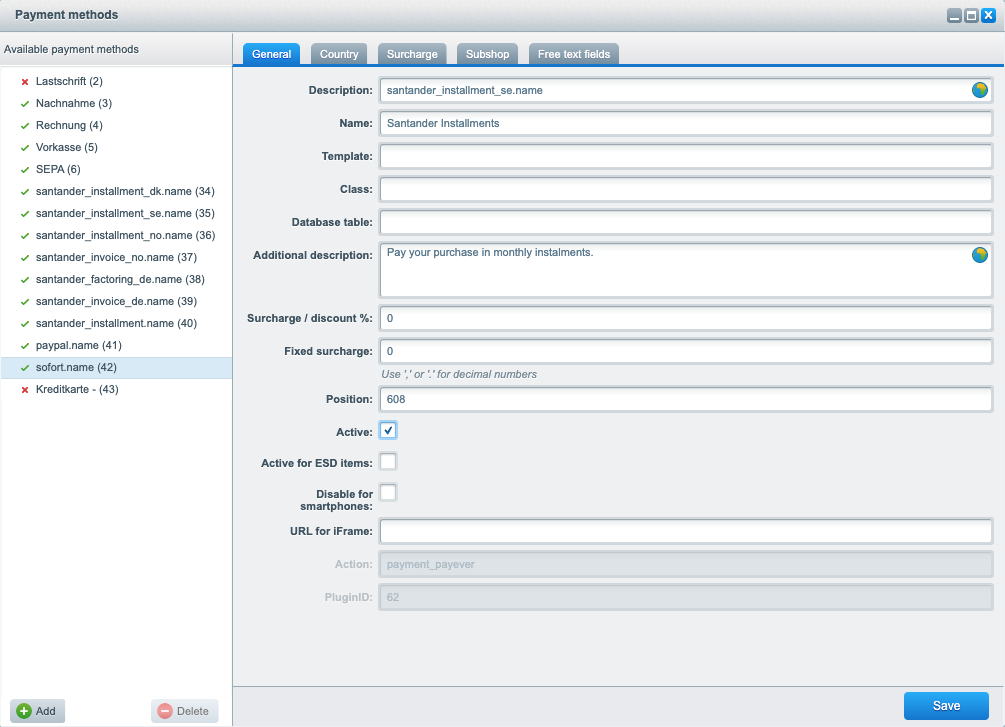 Testing the Plugin: Sandbox Mode
Would you like to test the plugin and the payment options before you go live? No problem - you can do so in staging/sandbox mode, since none of the transactions you do in this mode will result in an actual payment.  We kindly ask you to not test outside of the Sandbox Mode, since testing payments in live can have unintended consequences - even if your cancel the transaction right away after you have submitted it (If you test too often with your own credit card, it may be locked, and if for instance you submit too many installment requests via Santander with your name, this may negatively influence your credit score).
To activate staging/sandbox mode, set Sandbox to Yes in the payever plugin configurations and fill in the test credentials (Business UUID, Client secret, Client ID). To make sure your test transactions get accepted, please use stub data.
Once you have finished testing and switch to live (Sandbox = No), please don't forget to fill in your own live credentials (Business UUID, Client secret, Client Id) and save and synchronize (otherwise you will get an error message). 
Questions or problems? 
Our support team is there to help you free of charge from 8am to 7pm at support@payever.de
When you write to us, please let us know which version of our plugin and of shopware you are using, which shop you are working on (URL or email address you used to register at payever) and what error message/issue you have noticed at which point of the process - this helps us to solve your issue faster.