The Installments Germany payment option is offered in cooperation with our partner Santander Consumer Bank. Your customer is given the option of paying in 6 to 72 monthly installments, whereas you will receive the full amount from Santander shortly after the goods have been shipped.
Please note that in addition to a payever account (create for free here) you also need a contract with Santander in order to use this payment method. To receive a proposal, please contact support@payever.de and we will support you with an individual offer.
Terms and conditions
As a merchant, you decide whether you want to offer the financing (loan) "budget-neutral" for yourself, subsidize the customer (i.e. cover part of the interest cost for the customer) or you may even add a commission for yourself - this will be part of the proposal by Santander that you will receive from us.
The "budget-neutral" financing (loan) means an interest rate of 7.9% for your customers (the same for all customers), but you could also offer 0% financing by paying the interest cost yourself.
You also do not have to offer all maturities between 6 and 72 months, for example you could choose to only offer loans up to 48 months.
The Installments Germany payment option is applicable for amounts ranging between €99 up to €100,000 (maximum amount is determined individually by Santander). When using one of our plugins, these limits are usually automatically accounted for so that the payment method is not displayed if the amount is outside this predetermined range.
The Installments Germany payment option is only available to customers based in Germany .
Please note that the Installments Germany payment option can only be offered to private consumers (not suitable for corporate customers).
Please also note that with this payment method no different delivery addresses may be entered (for fraud prevention) . When using one of our plugins, this is automatically set so that the payment method is not displayed if a different address has been entered.
Procedure
After the payment has been completed, the customer is forwarded to payever, where information about the financial situation (income, housing costs, etc.) must be provided. If the customer sends this form in full, a Santander algorithm makes a first decision based on the data entered and automated queries at credit agencies.
If this turns out negative, the customer is asked to choose another payment method, if it turns out positive, the customer is then forwarded to the Santander contract center, where he can download the contract as a PDF and choose an identification method. He can choose between Post-Ident and Video-Ident.
Before the identification is completed, a transaction in payever has the status "in progress" (in your shop this can also mean "open", "payment check" or "waiting for payment", depending on the shop system you use). Once the identification has been completed, the status in payever automatically changes to "Accepted" (in your shop system, for example, "Paid", "Fully paid" or simply "OK"). You will also receive a corresponding notification by email. Please only ship the goods after the status changes.
When the goods are shipped, the transaction is captured, i.e. your customer receives the installment payment plan and you receive the corresponding amount. You must therefore report the shipment to us or to Santander. You can do this directly in the payever account (transaction details -> "Goods shipped") or via the shop system (may differ depending on the shop system, in Shopware 5 for example, this happens automatically when the status changes to "Completely delivered"). Please note that Santander may also requires proof of delivery in the form of a tracking number or similar (please contact your Santander agent for more information).
Cancellations can also be automatically requested via the payever portal in your shop system - but please note that such a cancellation is only possible before the goods are shipped, orders that have already been sent can only be canceled by email to cfs-abrechnung@santander.de.
Settings in the payever account
To install the Santander Installment Germany payment method, first open the Checkout app. To do this, either click on the Checkout icon in the Business Apps tile, or also the Checkout tile.
You can find the payment options on the left navigation bar.
Then click on + Add.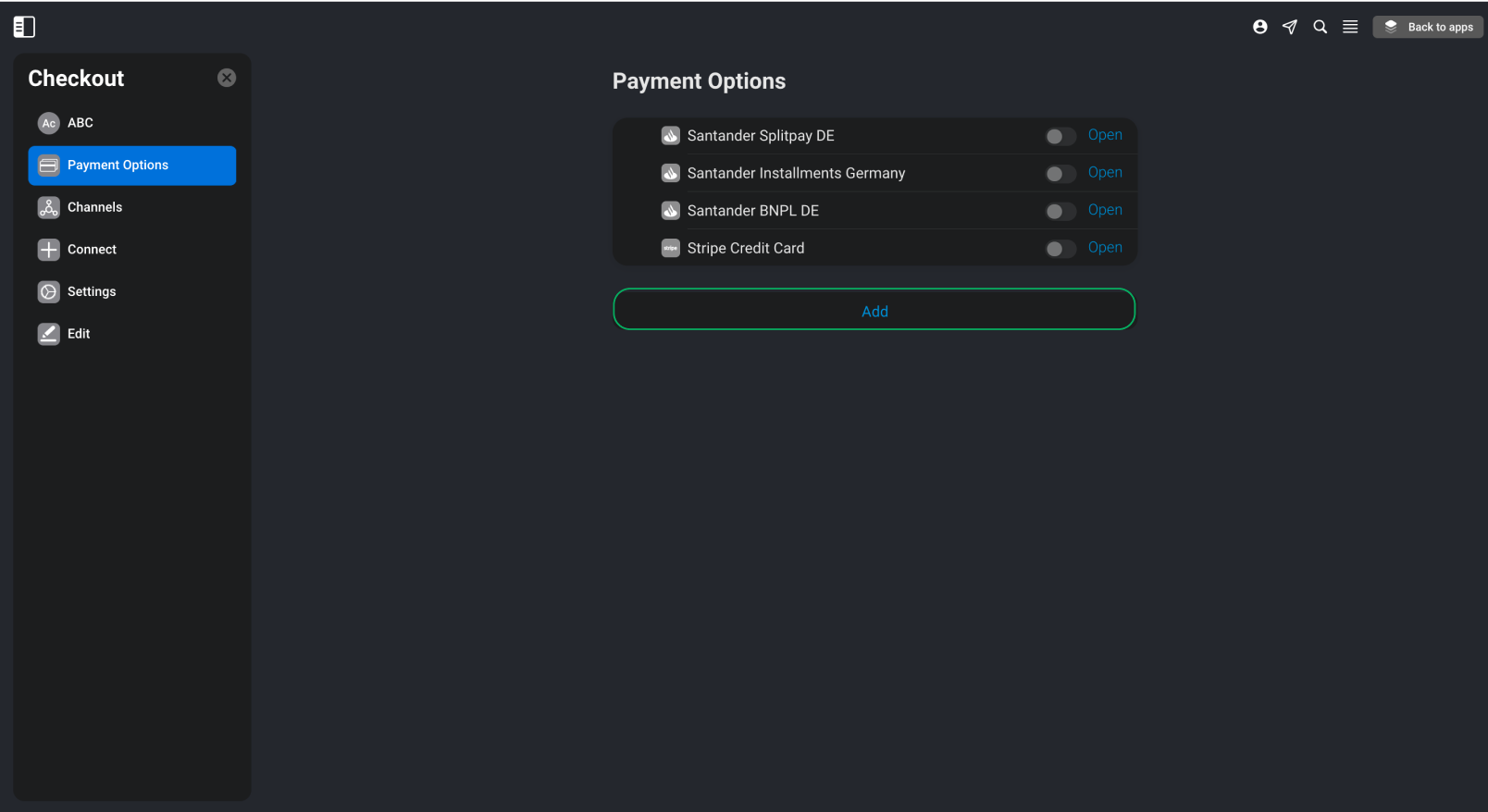 Now a list of different payment methods appears, from which you will need to select Santander Installments Germany. To do this, click on install.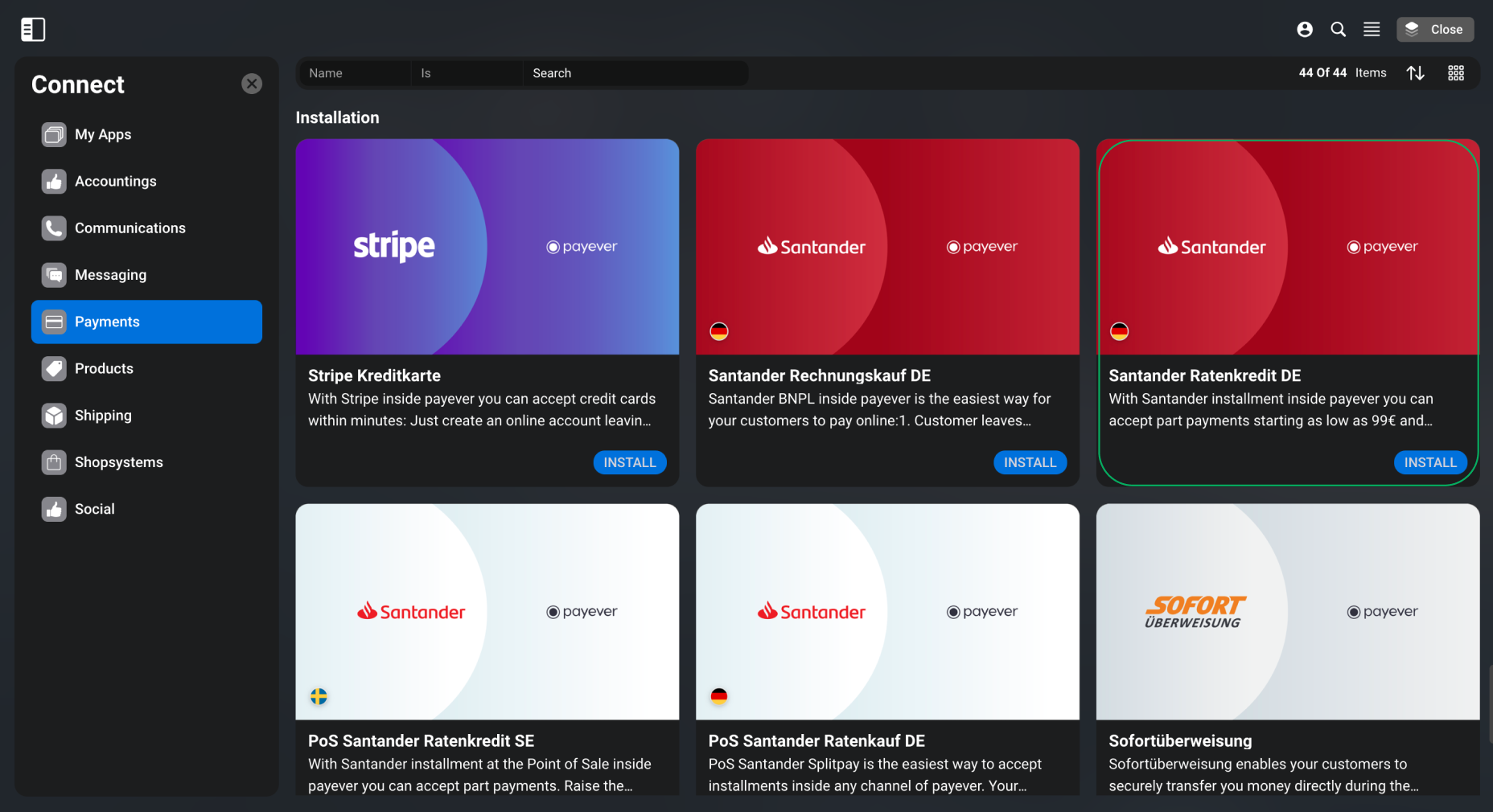 After you have successfully installed the payment method, click Open.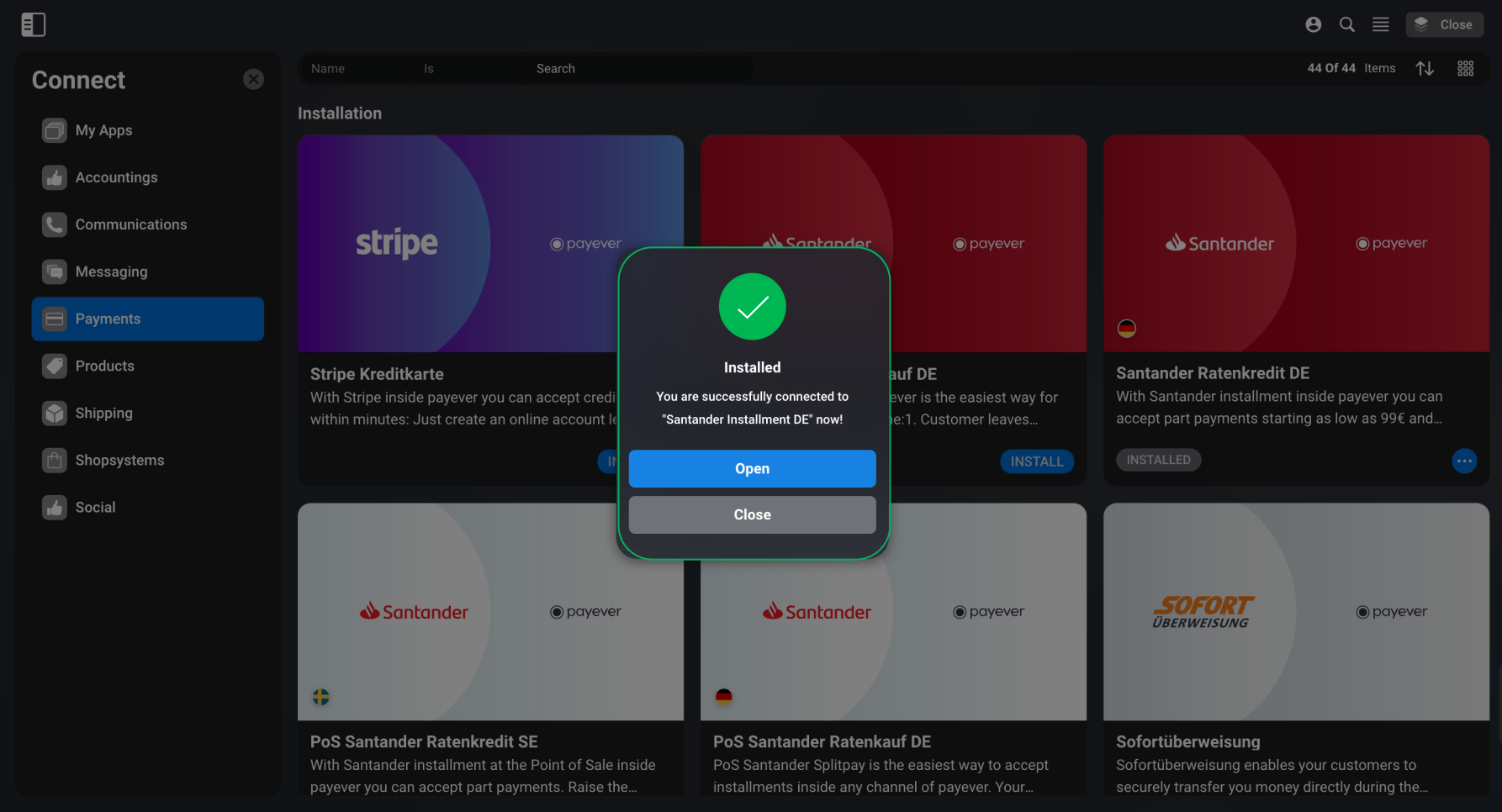 You will now see in the image below the 4 steps that you need to complete. You will receive the access data (merchant number / password) from Santander directly. You can also configure this step at a later time under the tab Connect > Payment methods > Open. If you have successfully established a connection click again on Default and determine the following settings:
My customers should be able to make a down payment. More information about this below - please note that this button is only displayed if you have entered your account details.
I want to receive email notification about changes in the application status of my customers. If activated, you will receive a notification by email whenever the status of the transaction changes (e.g. from "in progress" to "accepted").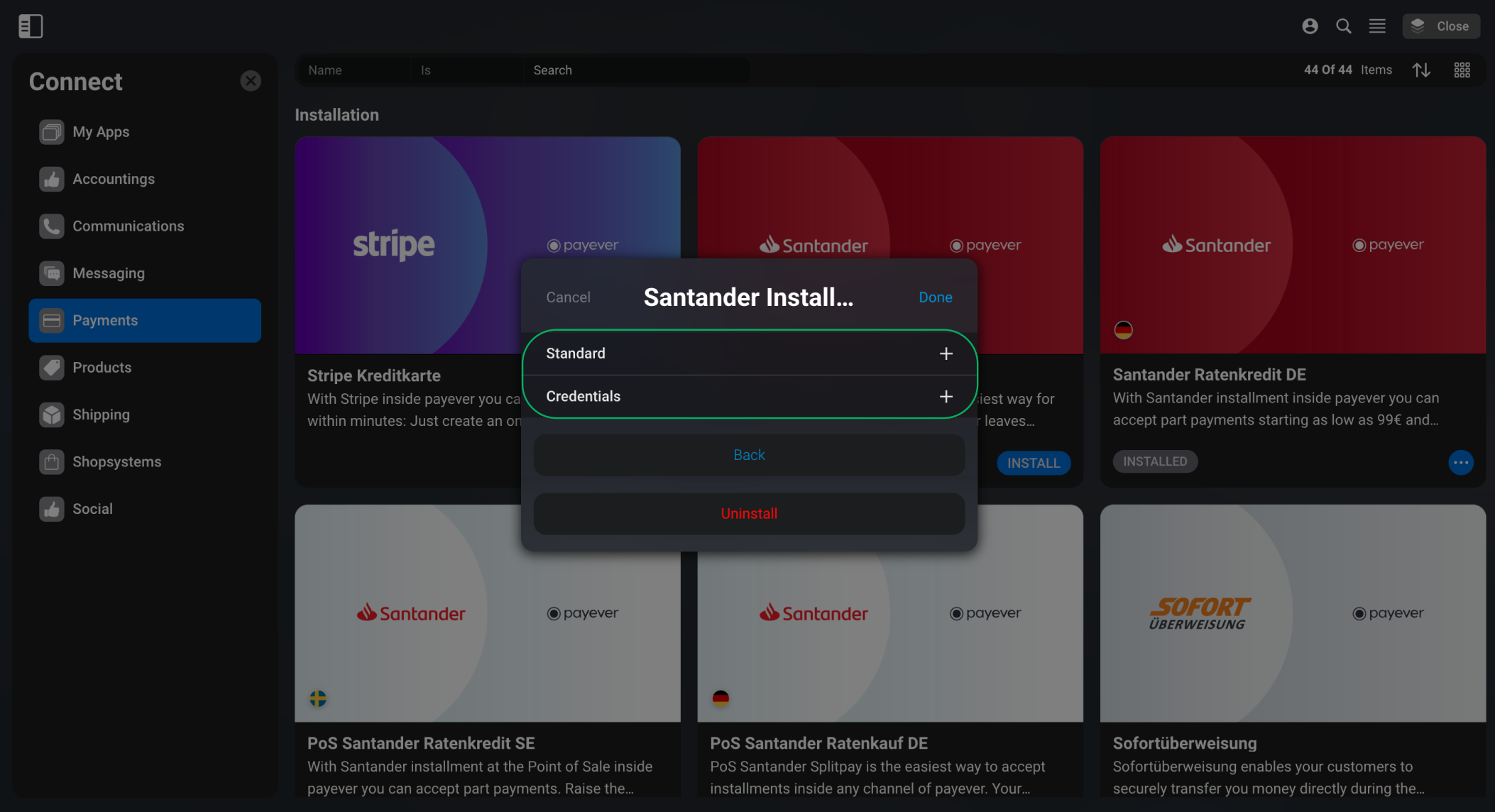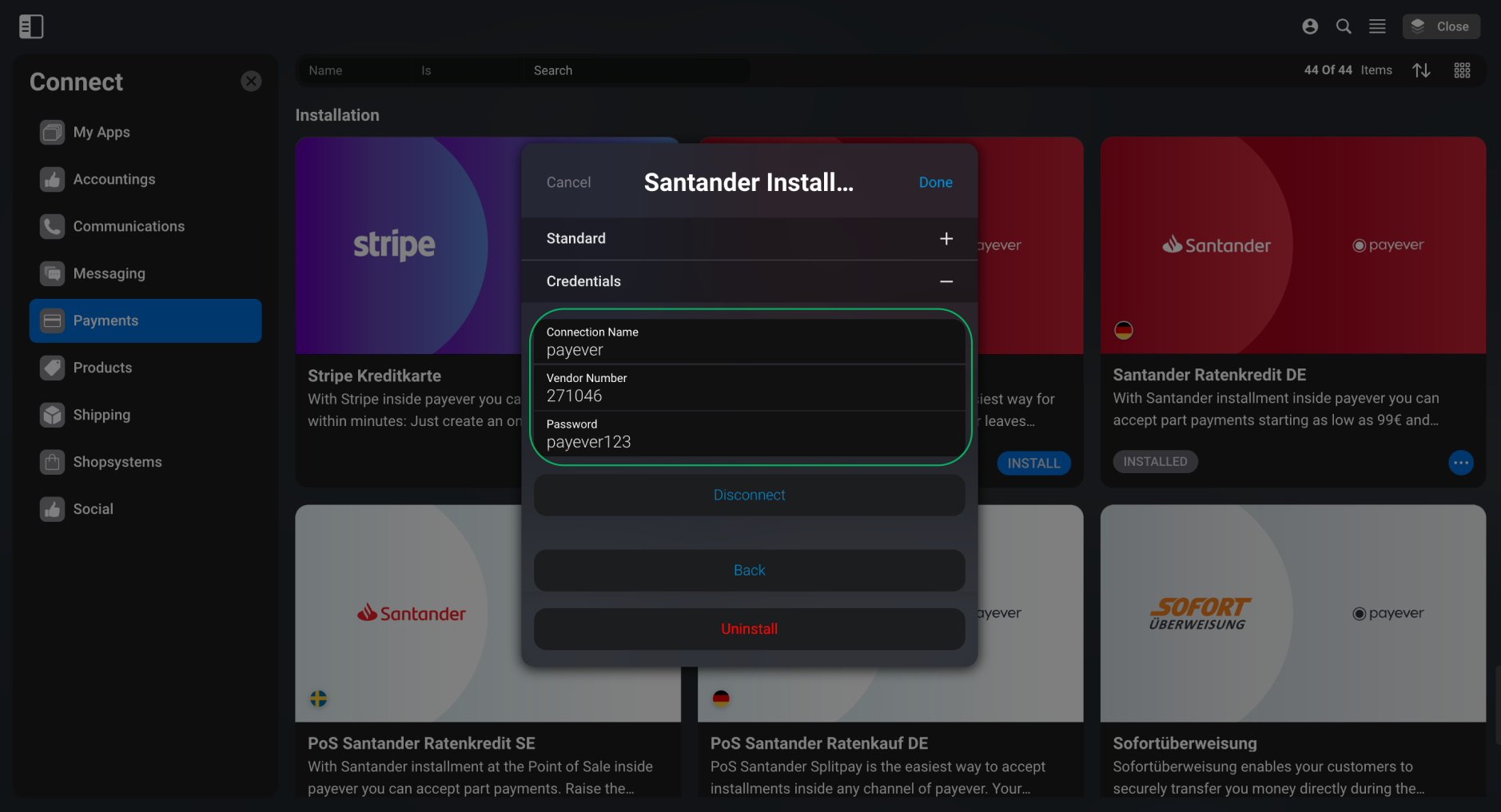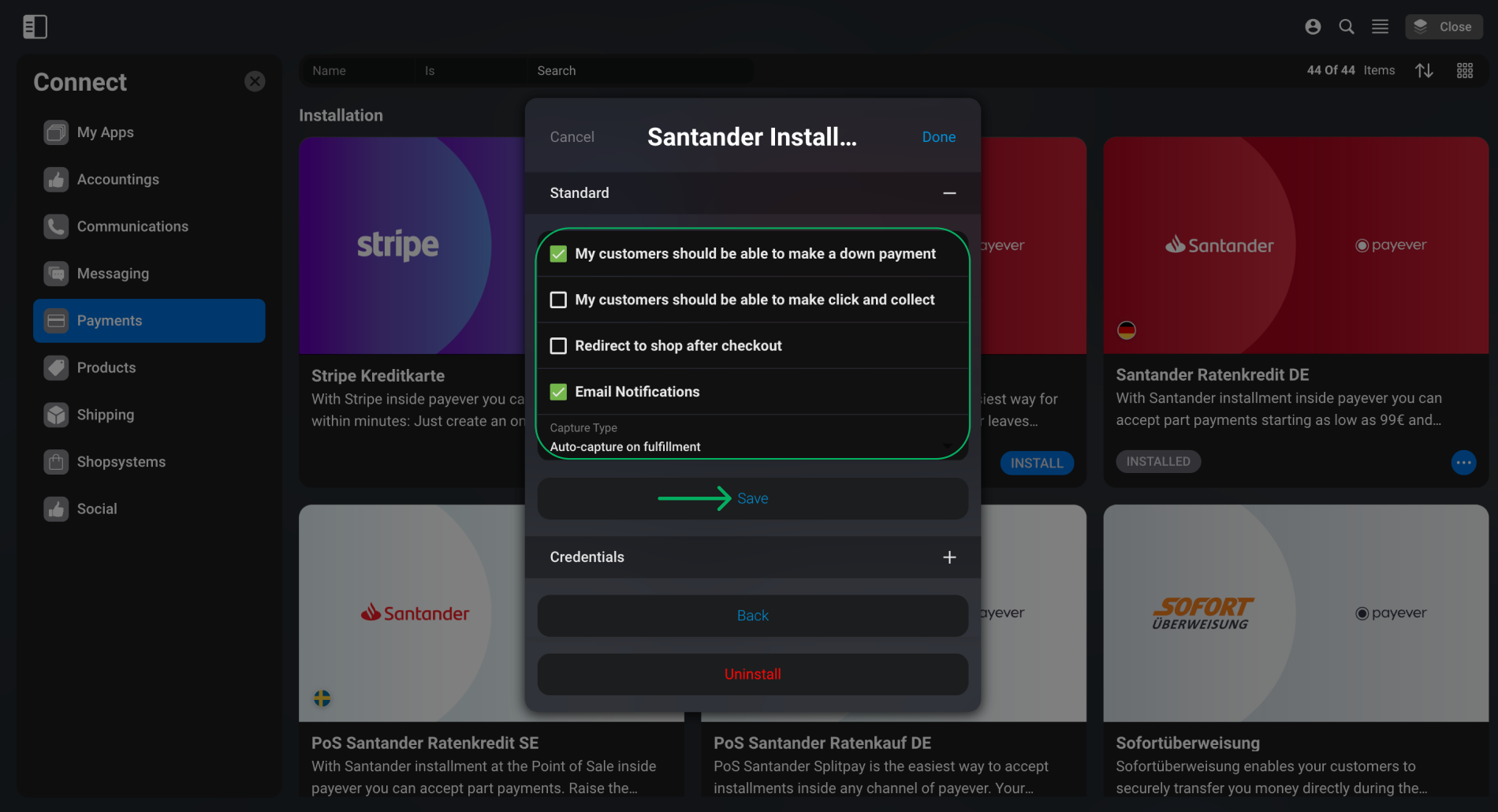 Down payments
With this payment method, you have the option of having your customers make a down payment (optional, deactivated by default). Your customer will see another field in the checkout so that he / she can enter any down payment.
Please note that the customer will send the down payments directly to you, not to Santander, and it is your responsibility to check whether the down payments have been received in your account (send an order before you have received the down payment and the Customer then does not pay them, you are liable for this loss yourself).
For this purpose, you have to store the bank account to which the deposit is to be transferred in your payever account.
To access the account settings, first open the Settings app. To do so, either click the "gear icon" in the Business Apps tile, or click Open at the bottom of the Settings tile.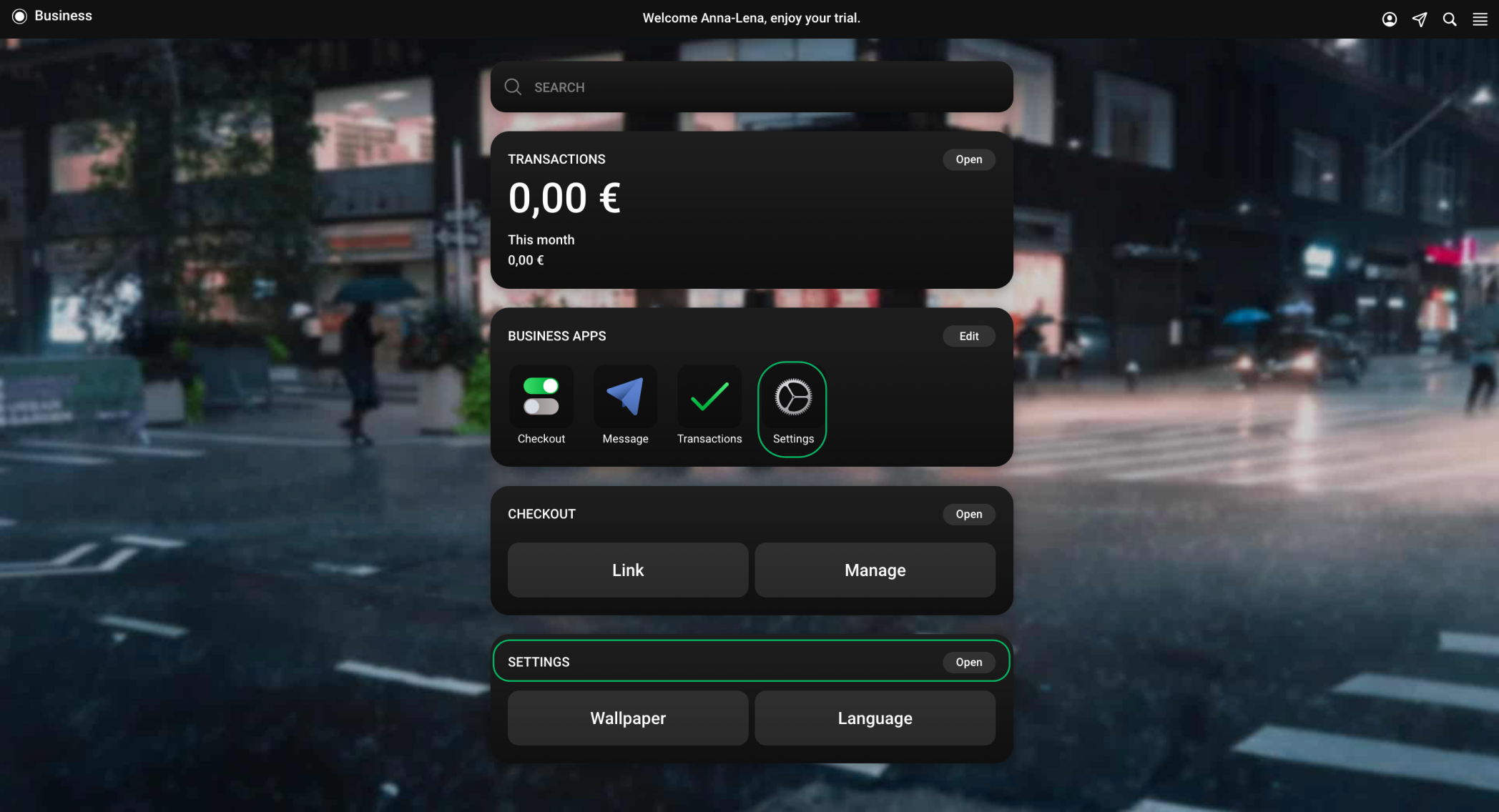 No click on Business Details and choose Bank.
You can now enter and save your bank details. We need these for the deposit email that we send to your customer after payment is completed (contains amount and transfer data). The address with which you registered your account with us will always be put in cc for these emails, so that you are aware of the deposit and its amount (you have not received an email? Also check your spam folder!).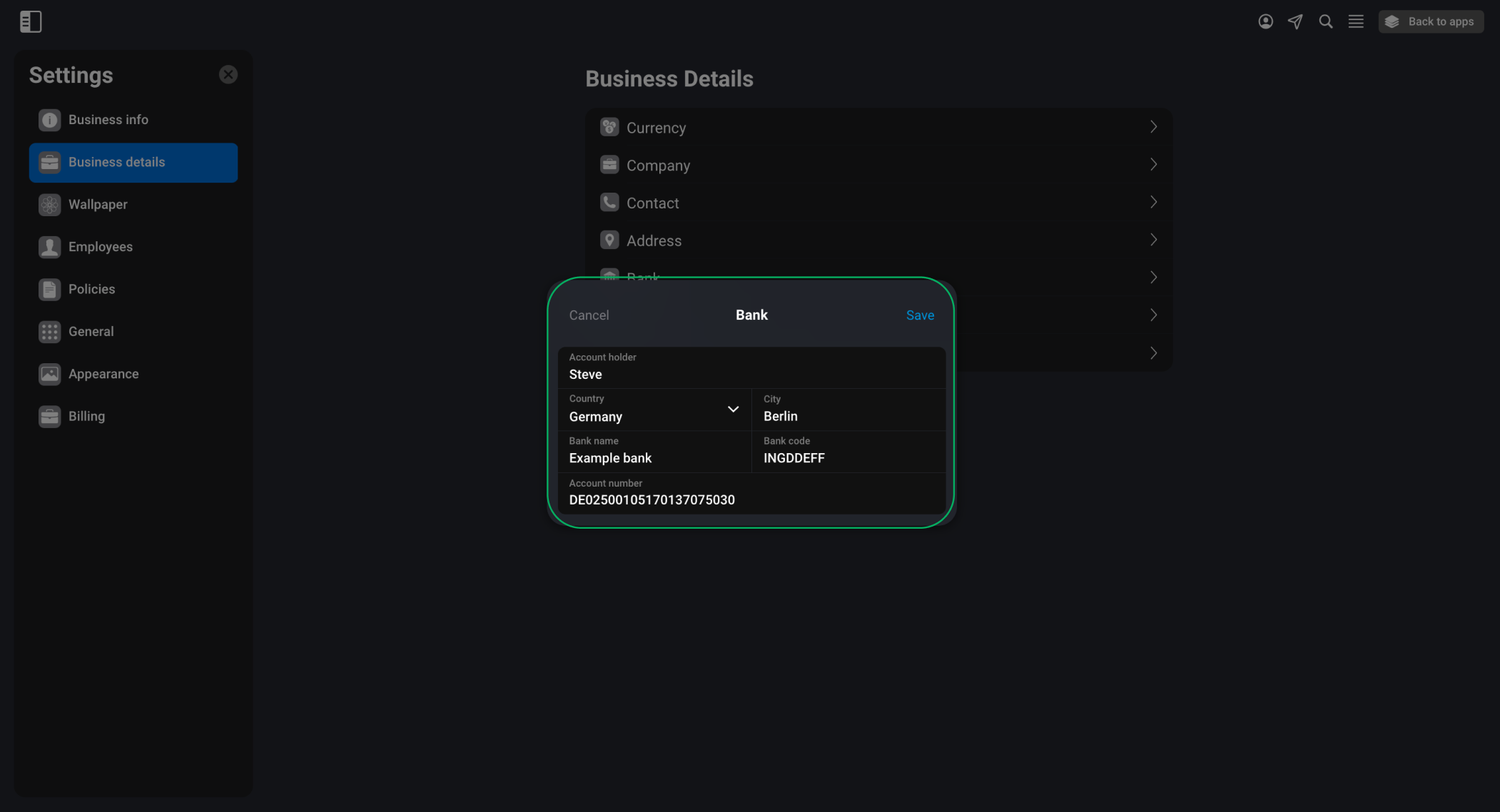 Status messages in our shop system plugins
As previously indicated, the payever status reports in progress and accepted have different names in different plugins, and actions such as shipped goods and cancellation are located in different places and are named differently. In the table below you may see some examples:
| | | | | |
| --- | --- | --- | --- | --- |
| | In progress | Accepted | Failed / Declined | Canceled |
| Shopware 5 | In progress | Completely paid | Review necessary | Review necessary |
| Shopware 6 | Open | Paid | Canceled | Canceled |
| Magento 1 | In Process | Accepted | Failed / Declined | Canceled |
| Magento 2 | Payment Review | Processing | Canceled | Canceled |
| WooCommerce | On hold | Processing | Failed / Cancelled | Canceled |
| Shopify | Authorized | Paid | Voided | Refunded |
| JTL | In Bearbeitung | Bezahlt | Storno | Storno |
| Oxide | In Process | OK | Failed / Declined | Canceled |
| Plentymarkets | Waiting for payment | Cleared for Shipping | Canceled | Canceled |
Notes: In some shop systems you can adjust which payever status should be mapped to which shop system status - in this case we list our recommendation in this table, which then does not necessarily have to correspond to the actual setting in your shop.