The credit card payment option is offered in cooperation with our partner Stripe.
Please note that in addition to a payever account (created free of cost) you also need a Stripe account. In your payever account please go to Checkout App > Payment Options > +Add > Stripe Credit Card and click on the Connect button. This will redirect you to the Stripe online registration form where you can either log in or create a new account. You may find test credentials here.
Prices
Denmark: 1.4% + 1.80kr transaction fee for European cards or 2.9% + 1.80kr for non-European cards.
Norway: 2.4% + 2kr transaction fee on Norwegian cards or 2.9% + 2kr for international cards.
Sweden: 1.4% + 1.80kr transaction fee for European cards or 2.9% + 1.80kr for non-European cards.
US: 2.9% + 30¢ per successful card charge.
UK: 1.4% + 20p transaction fee for European cards or 2.9% + 120p for non-European cards.
For the prices of other countries, please refer to the corresponding Stripe country-specific website.
Settings
Who covers fees? Either the merchant or the customer - the customer will automatically see the fees when using our plugins in the checkout.
Do redirect to the shop after success or failure. If activated, your customer will be forwarded to your order confirmation page after the payment has been completed.
Capture transaction manually. If activated, payments will only be authorized after receipt of the order and will only be collected if you manually confirm the shipping of goods in the payever account. If not activated, payments are automatically booked after receipt of the order.
Credit card statement descriptor (optional). Here you can enter what should appear on your customers credit card statement.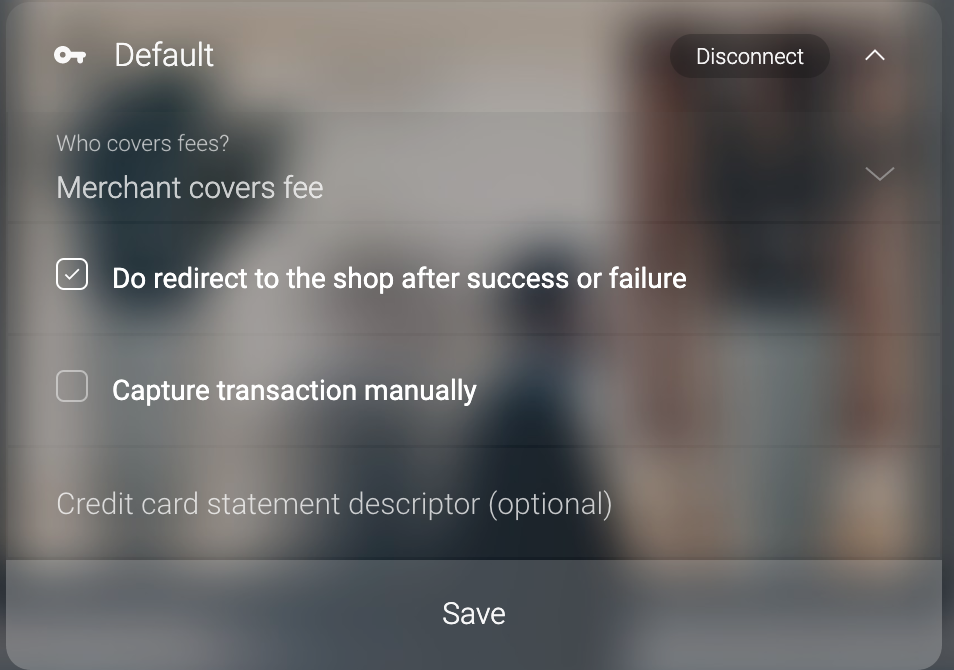 How to activate Stripe Credit Card in your payever account?
You can activate or deactivate the payment method in your payever account at any time. If you deactivate the payment methods by clicking the toggle switch, they will automatically disappear from your shop without you having to configure this in your shops backend (of course, this also works the other way around - when activating a payment method). Just go to Checkout > Payment options and switch on Stripe Credit Card.