This payment option is offered by the Santander Group and allows your customers to pay their bill in 14 or 30 days via bank transfer or iDeal, while you as the merchant are receiving the full payout from Zinia hassle-free and immediately.
Please note that in addition to a payever account (create one here free of charge), you also need a contract with Zinia in order to be able to offer this payment method.
Terms and Pricing
Zinia will put together an individual offer for each merchant (no standard pricing). Please contact support@payever.de in order to get your individual offer.
By default, Zinia BNPL is offered for carts between €50 and €750, though you may be granted an alternative range upon consultation with Zinia if this default range doesn't seem to be fitting your shop's product assortment.
When using one of our plugins, the default limits are usually automatically applied, so that the payment option isn't being displayed to the customer if the total value of their shopping cart falls outside this range. Note that you will need to adjust the corresponding set of rules in your shopsystem's settings in case you have been granted a different range than the default range.
Note that this payment option is only available for customers with a legal residence in Germany or Netherlands. However, Zinia offers similar payment methods in other markets.
Please note that Zinia BNPL can only be offered to consumers (unsuitable for corporate customers/ B2B commerce).
Please also note that no alternative delivery addresses are allowed for this payment option (fraud prevention). When using one of our plugins, this is automatically configured for you, so that the payment option is not displayed if the customer has entered a shipping address that does not match his billing address.
Processes
After choosing the payment option Zinia BNPL, the customer is forwarded to Zinia, where he only needs to enter his birthdate and agree to an automated credit check. Once the customer has filled and submitted this form, a scoring algorithm will make an automated decision within a few seconds. If this turns out negative, the customer is asked to choose another payment method; if it turns out positive, the customer is being showed a success message (and, depending on your integration type and settings, will be redirected to your shop's order confirmation page).
The transaction will be captured when the order is being shipped (captured means your customer will receive their Zinia invoice by email, and you will receive the corresponding payout to your bank account). You must therefore report us shipments of orders that were paid via Zinia BNPL.
You can do so either directly in your payever account (transactions -> select transaction -> click button "shipping goods") or (if you have integrated us into your online shop) by setting a specific trigger status in your shop-system or ERP. As a third alternative, you can also choose the Autocapture option in payever, in order to have your order captured automatically (without any trigger from you/ your shop) was soon as Zinia has approved the transaction (you can find more about this in the Settings section).
The payouts are being transferred directly to your bank account by Zinia, they are not routed through payever. You can agree on a payout schedule (e.g. daily, weekly, monthly) individually with Zinia according to your preferences. It usually takes 1-2 working days after Zinia has initiated the payout for the amount to be booked onto your bank account. You will also receive a payout report (via email or SFTP) from Zinia regularly (read more about this here), which looks like this:

Installation & settings in the payever account
To get to the payment options, first open the checkout app. To get there, either click on the checkout symbol in the Business Apps tile or on the Checkout tile.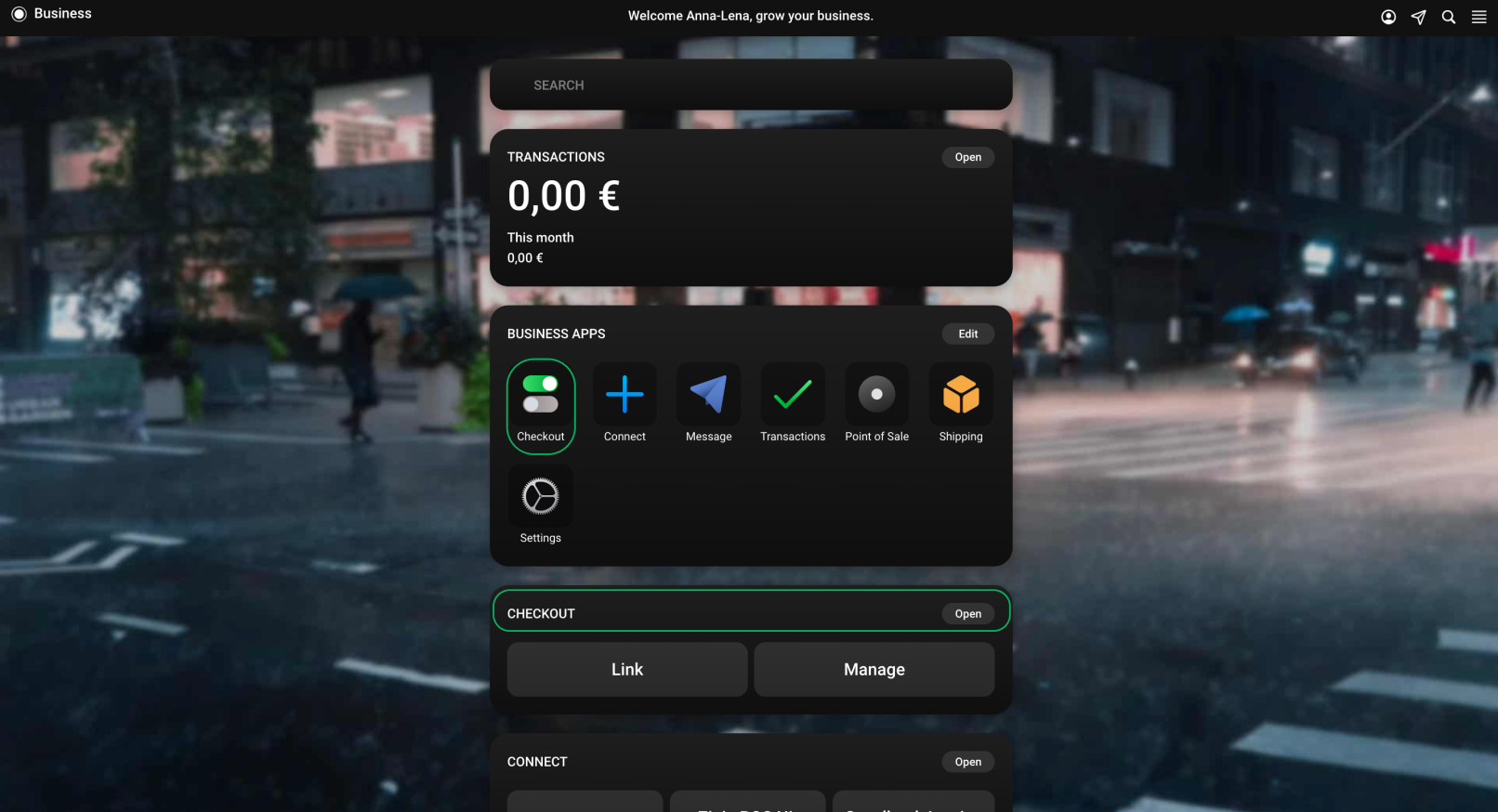 Now select payment options in the navigation bar on the left side of the page.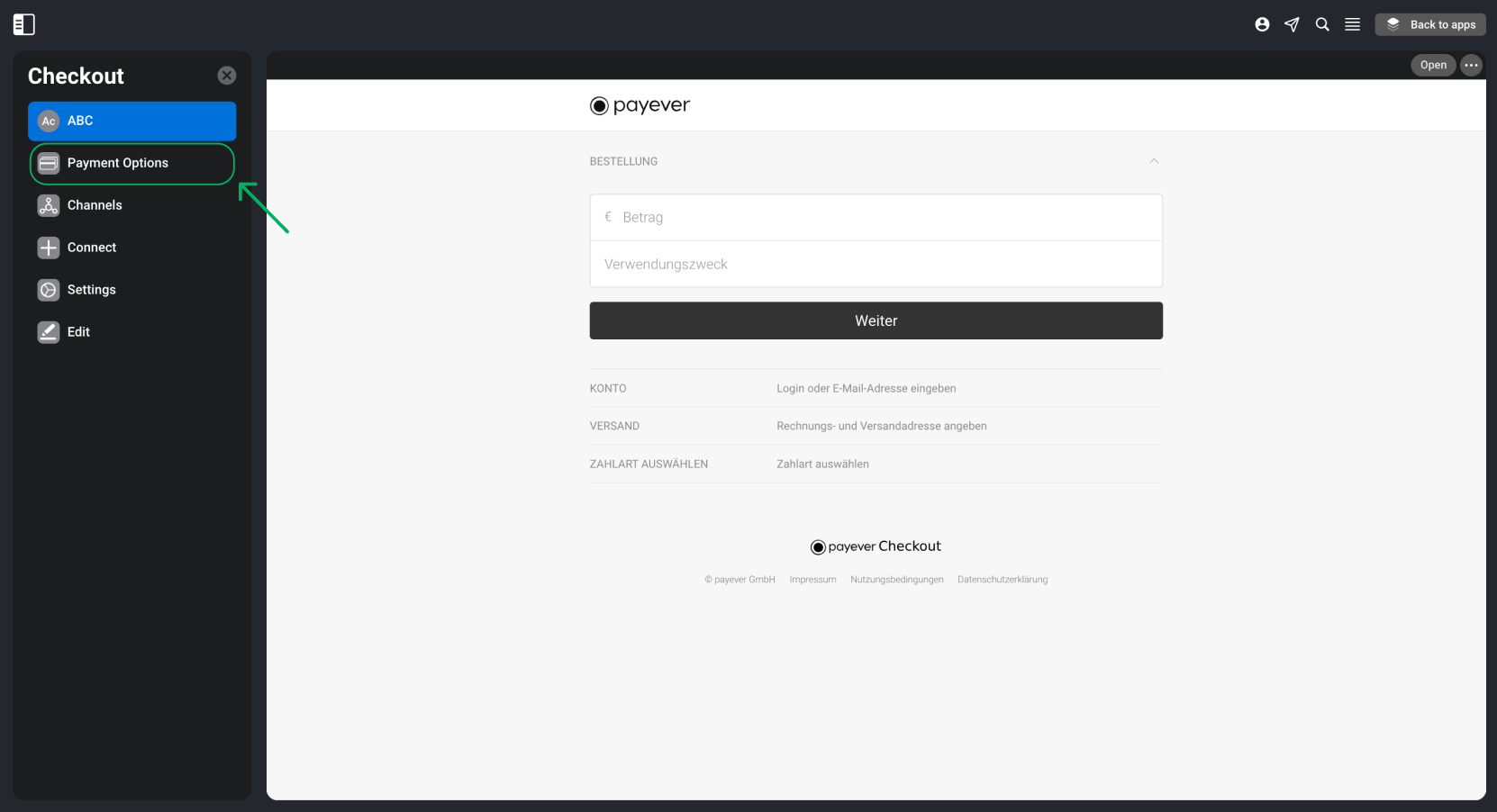 Up next, please click on Add.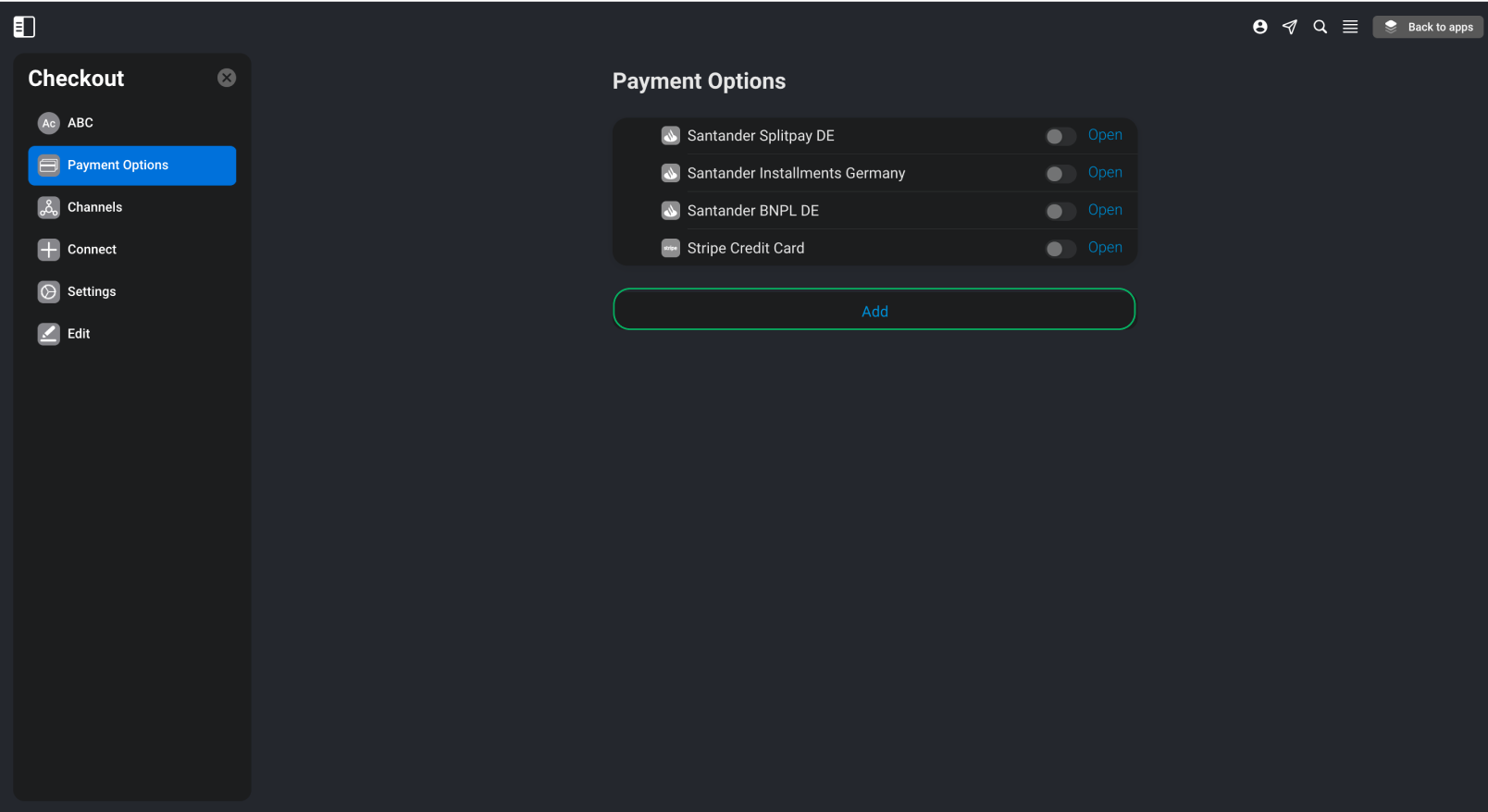 You should now see an overview of all available payment options. Look for the Zinia BNPL tile and click install.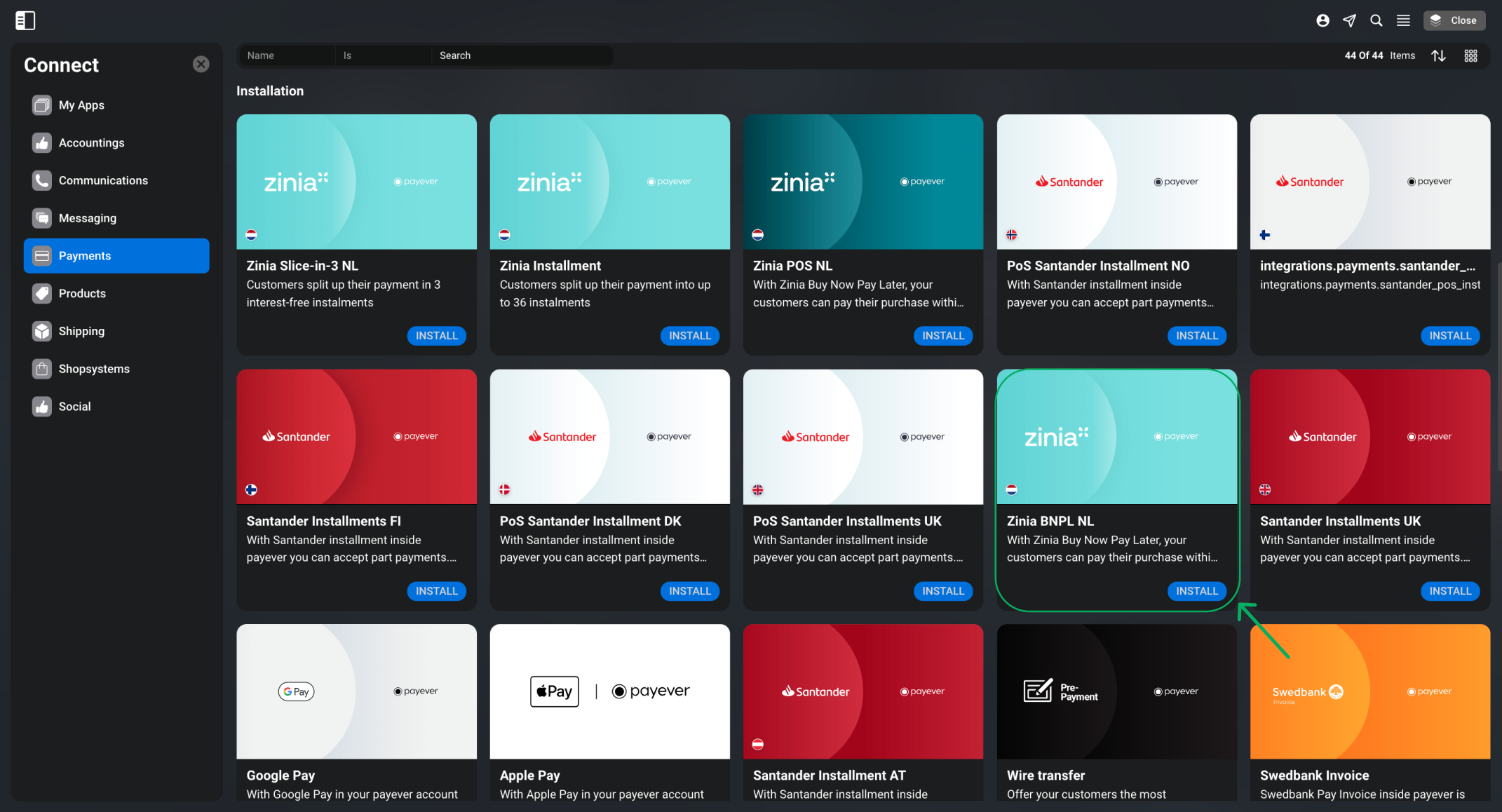 After you have successfully installed the payment option, click Open to enter your access data. You will receive this access data (API key) from Zinia by email.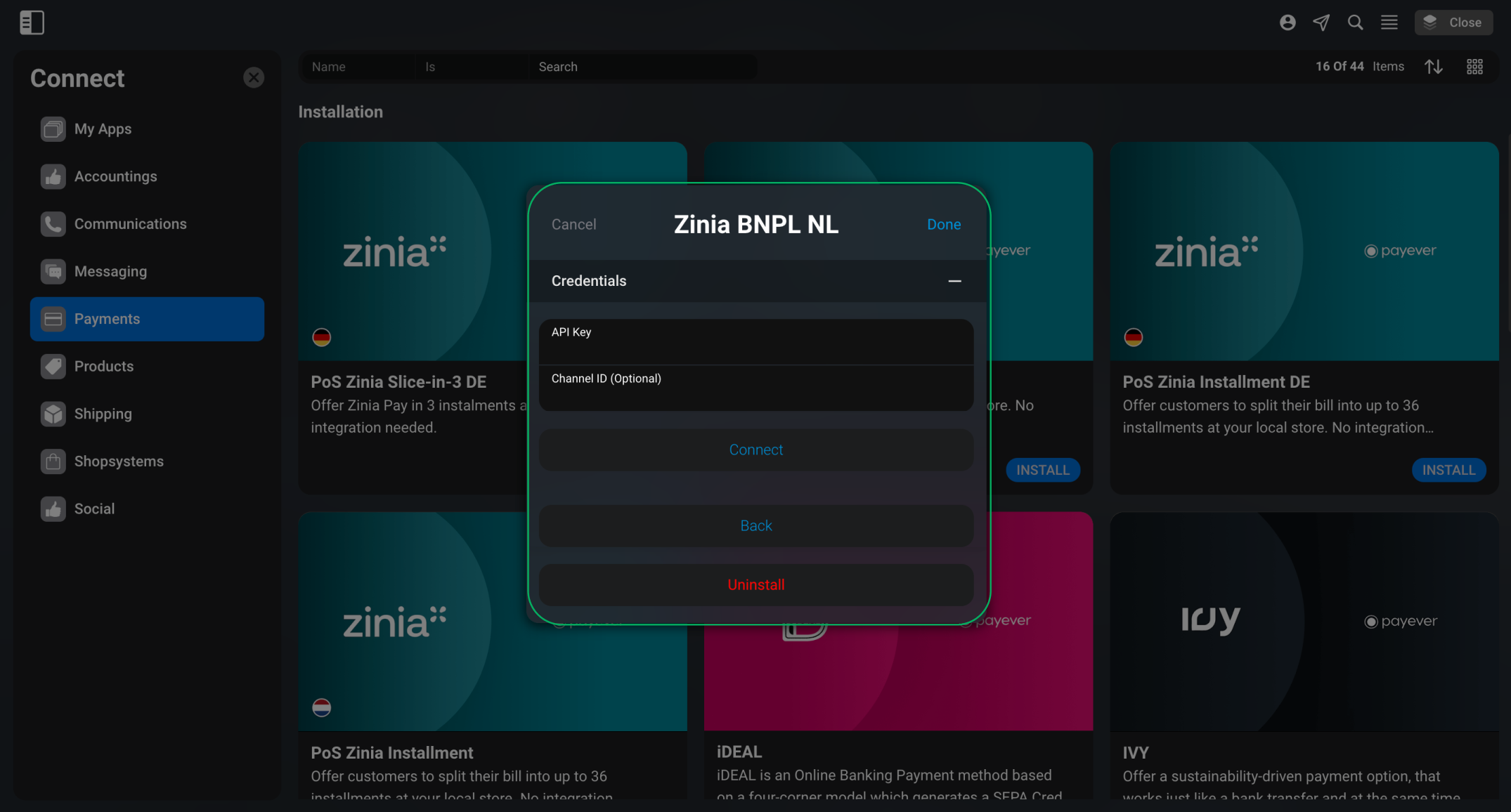 After connecting the payment option successfully, you can configure a few settings.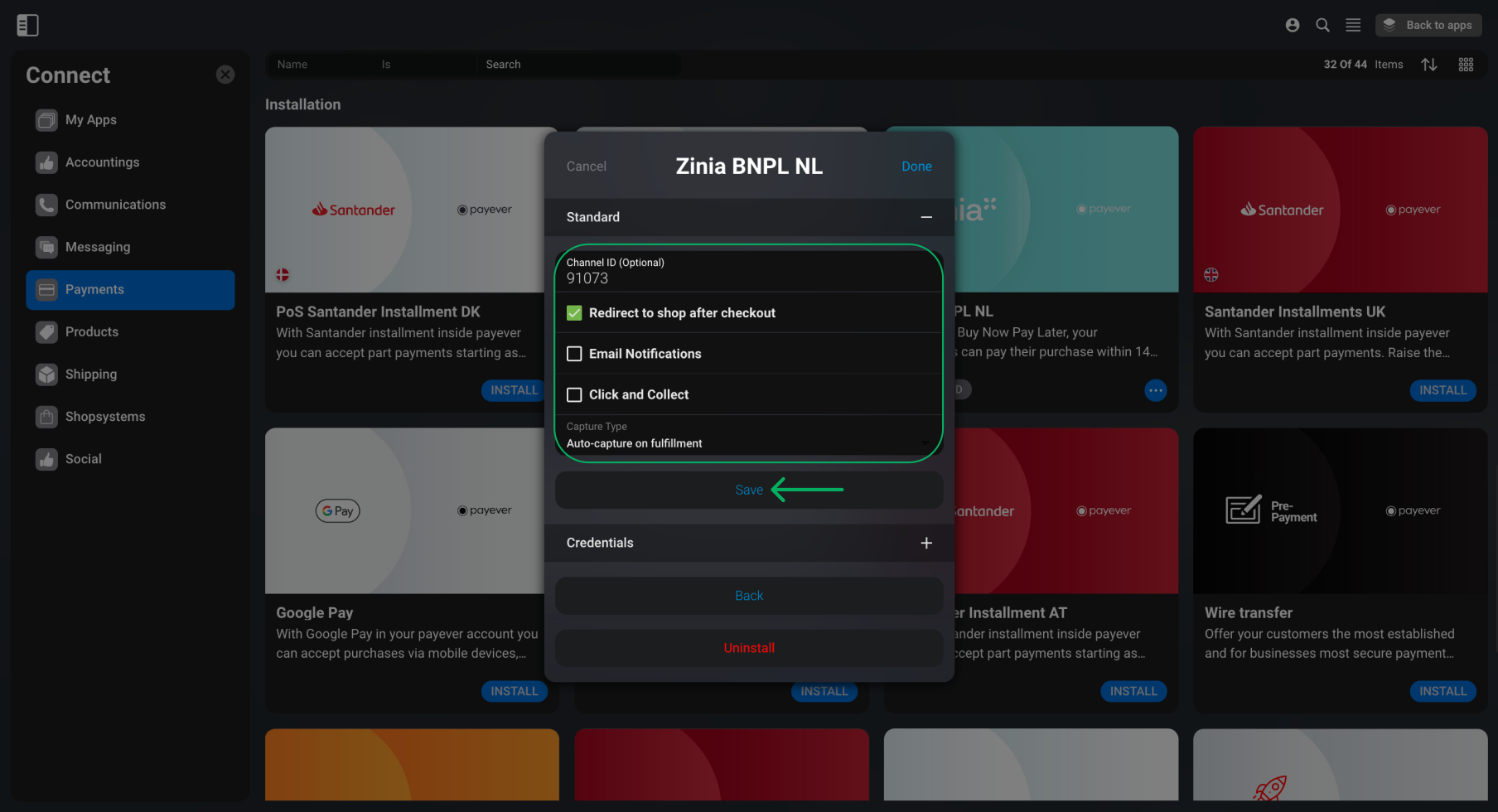 You can determine whether the customer should be forwarded directly to your shop after completing the payment or not. If this is activated, your customer will be forwarded to your order confirmation/thank you page after completing the payment. All you have to do is tick the box and click Save.
You can also choose whether you want your transactions to be captured automatically (auto-capture). If you have activated and saved this option, you do not need need to notify us about shipments as it was described above, since we will then always automatically activate the transaction as soon as the payment is approved. Please note that you may only use auto-capture if your shop fulfills the following requirements:
You're always shipping orders right away (within approx. three working days after receiving of the order).
In your online shop you only sell the inventory that you actually have in stock at the moment - that means you don't do pre-ordering, drop-shipping or are manufacturing items individually upon order.
These requirements must be met because the payment period of 14 or 30 days for the customer begins upon capture as well (and hence immediately after the order was placed when using autocapture), and your customers would therefore have significantly less time for payment or may even have to pay before receiving any goods from you.
Please also note that when using Auto-Capture, you need to be very diligent and fast with cancelling orders that could not be fulfilled for some reason (e.g. items are sold out), as otherwise your customers may receive unjustified dunning letters.