At payever, we place great emphasis on minimal design and the most intuitive, self-explanatory operation possible. Nevertheless, it is normal that it will take a moment for you to get used to the new system. So that you can get started right away without any problems, here is a brief overview of your first steps in payever.
Registration
In order to use the payever Platform as an employee, you first need an invitation from your employer.
You will receive this invitation in the form of a link via email (usually, it will be sent to your personal email address that your employer created for you when you joined the company).
The link is valid for a limited time, you should open it within 24 hours of receiving it if possible.
If you have not received the link, we recommend that you check your spam folder. Occasionally, invitation emails end up there by mistake.
If you do not find the email there either, you can ask your Storemanager or company management whether an invitation has already been sent to you and check again whether your email address has been stored correctly (e.g. if a typing error has crept into the email address during the invitation process, the invitation email cannot be delivered).
Please also note that you should not share your personal access link and that you should not accept any external links, otherwise your account cannot be activated.
When you have found the invitation in your mailbox, continue with step 1.
Step 1:
Click the Link "Activate Access now" in your invitation email (highlighted in red in the image below).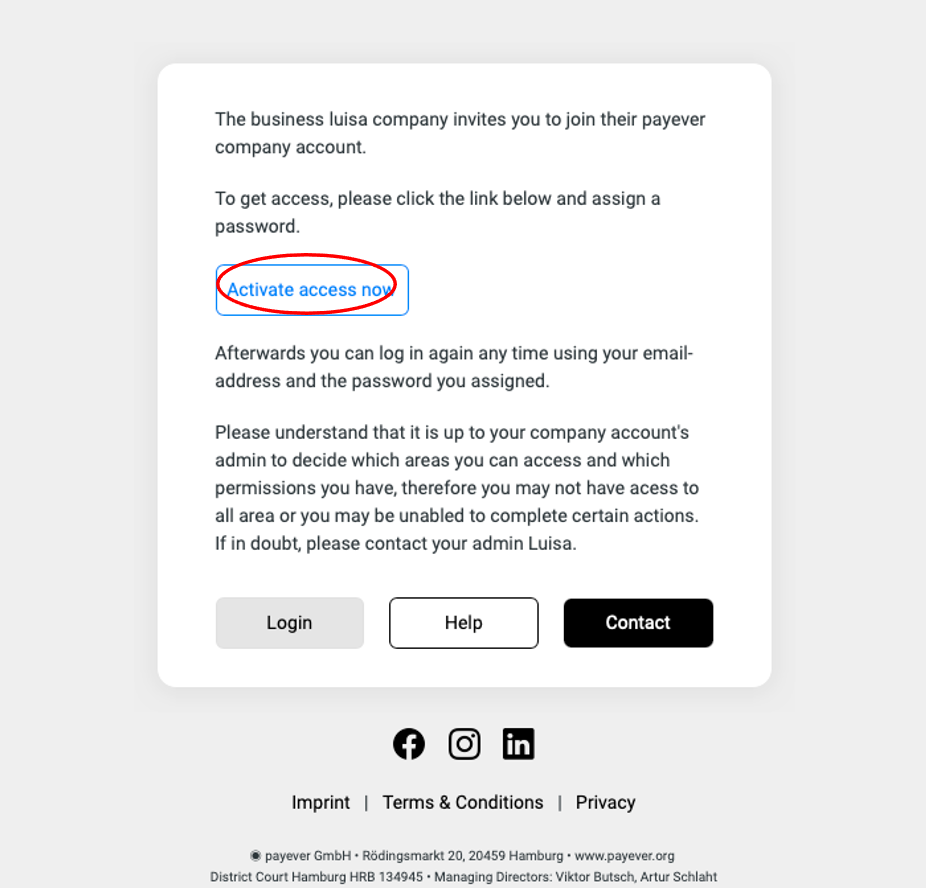 Step 2:
Now you can enter your data. Your email is already set and usually your name and first name are already entered (however, you can still adjust the name if it should be incorrect).
Now assign a password and enter it a second time for confirmation.
Attention - your password must meet the following requirements:
At least one uppercase letter and one lowercase letter.
At least one number
At least one special character (e.g. ? or !)
At least 8 characters in total
Do not use a password that you already use privately, and do not use a password that consists of your name or date of birth
Now click on Register.
Step 3:
Gratulation, you are now logged in!
In the future you can log in again at any time at https://commerceos.payever.org/ with your email address and the password you assigned before.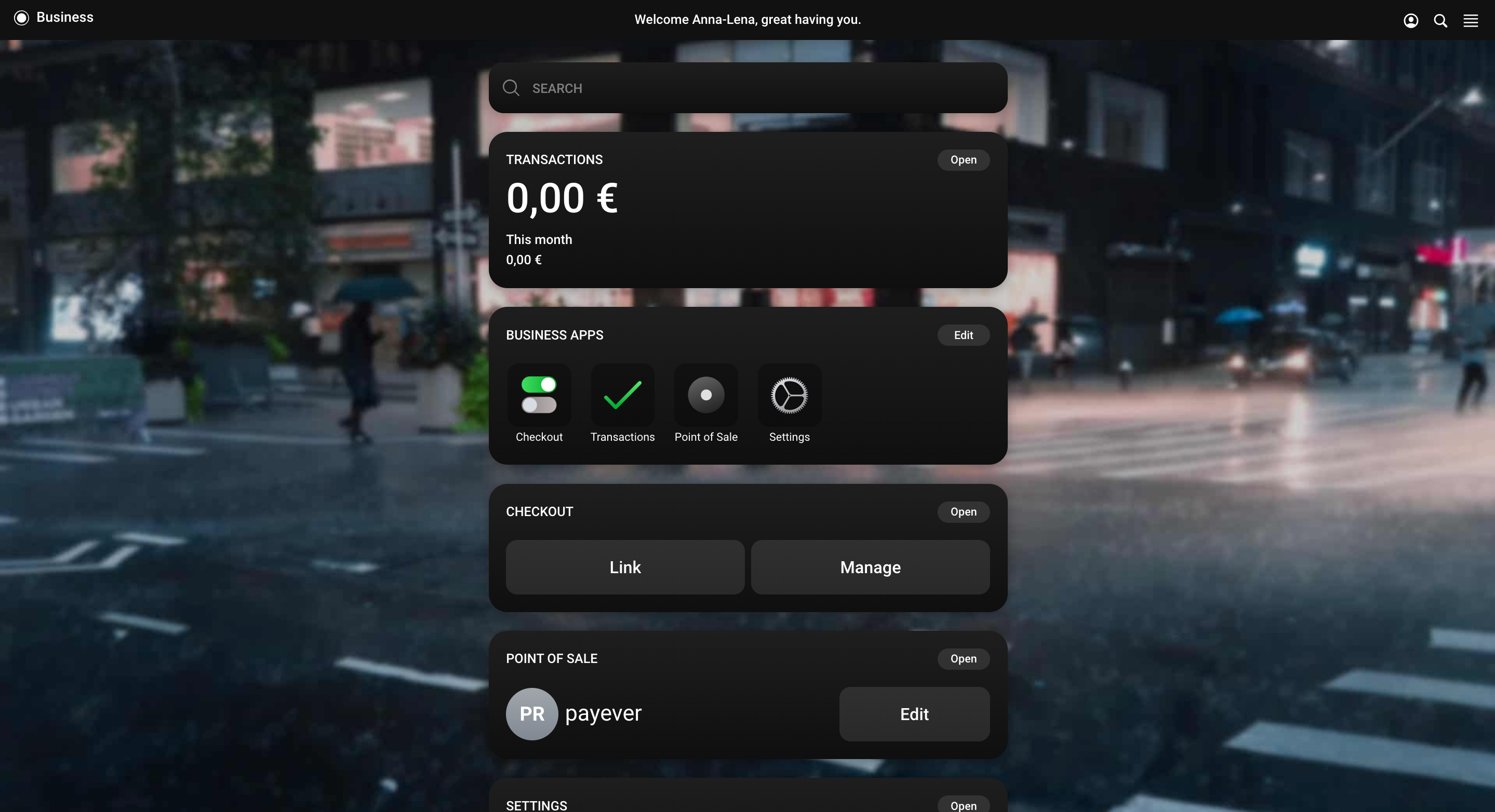 Your screen may look a little different than the one you see here - which and how many apps you see depends on the access rights your employer has set up for you.
As a rule, however, employees will at least have access to the Transactions app, in which you can view all transactions/payments of the respective company or branch.
If you work in sales or customer service and are expected to independently submit payments or financing applications with and for customers, or even create payment links for customers, you will usually also have access to the POS and/or Checkout app.
If you work in a managerial position (e.g. as a branch or team leader), you will often also see the App Settings/Settings here, which you can use, for example, to set a new background image or also invite other colleagues from your company to the account.
If you don't see any apps at all (empty dashboard or error message such as "No data"), your employer has probably forgotten to assign rights to your user. In this case, contact your admin (who this is for the respective company account is always stated in the last sentence of the invitation email) and ask to adjust the access rights of your user in the employee administration accordingly.
Follow the instruction named "Two-factor authentication" to log in successfully in the future as well.
We recommend you to read the following articles as well:
Information about the two-factor authentification
Information about the two-factor authentication for the log in
Information on how to add a security question to your account